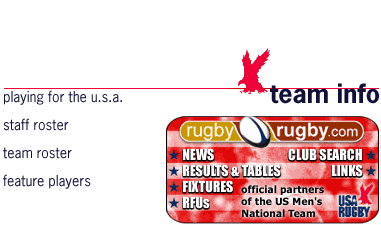 Top Prop: George Sucher
Spring 1999
George Sucher:
George Sucher began preparations for life as a prop 23 years ago, he just didn't know it at the time.
The Tough Life of a Lock Forward
Winter 1999
Luke Gross:
It's a tough life. Eagles lock Luke Gross is playing professional rugby in Italy this season.
Hard-nosed, Not Hard-Headed
Fall 1998
Brian Hightower: Back in Action, Stronger than Ever
Eagles winger Brian Hightower took a new look at the game of rugby this past season, and now he wants to give his own game a new look too. .
The USA's All-Time Cap Leader
Summer 1998
Chris Lippert: A Veteran Still Paying His Debts
Chris Lippert's soft speech and laidback demeanor make him your archetypal Southern Californian, except for his long-standing habit of mixing it up in the front row.
Dedication through Preparation
Spring 1998
Vaea Anitoni: His Game Does the Talking
"He who sweats the most in peace bleeds the least in war," the all-time leading try-scorer for the USA says of his work ethic."
The Lyle File
Autumn 1997
US Captain Dan Lyle Looking For More Moments
Ask Dan Lyle to name the best thing about international rugby, and the answer is simple: "moments." Find out why.


© USA National Rugby Team
Scott Compton
USA National Rugby Team
2802 10th Street
Berkeley, CA 94710
Ph. 510-647-1100
Fx. 510-647-1108