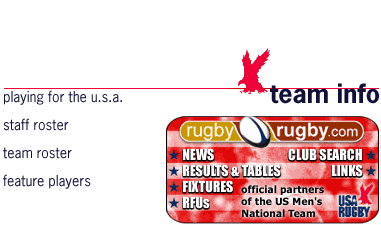 Luke Gross:
It's a tough life.
Eagles lock Luke Gross is playing professional rugby in Italy this season.
It means an apartment in the small town of Rovigo where the big American is something of a celebrity. It means skiing in Austria over the Christmas break. It means a chance to look around Italy when the team travels for games (Venice gets rave reviews). And, perhaps topping the list, it means Italian food. "We have a Scilian prop on the team who is an incredible cook," Gross says. "I think I'm in love."
Not a bad lifestyle by rugby standards, especially considering that Gross heard of rugby for the first time only five years ago and admits that it sounded a little stupid. A solid Division One basketball player, Gross was introduced to his current game in 1994 while pursuing a Masters degree in industrial and environmental safety at Marshall University. While skeptical of a sport described as a cross between football and soccer, Gross decided to check out a practice. His assessment rose to 'crazy' and a few days later, after his first game, he was hooked. From there it was a rapid rise to rugby prominence; a stint with the Cincinnati Wolfhounds before joining the National Team and earning a contract with the prestigious London Harlequins in 1996.
It was time to make a move from 'Quins this '98-'99 season, however. With strict limits on the number of foreigners who can play, and plenty of internationals on the club's roster Gross decided to join Rovigo.
In addition to the relaxed lifestyle in a town of 50,000, the club is in second place in their half of Italy's first division, behind only Bennetton-Treviso, a squad that boasts seemingly the entire Italian national team, says Gross. "Overall, we're likely to finish second or third in the league," he predicts, "and will make the end-of-season playoffs.
"We are very mobile,' he notes of the club's style. "We are not very big, but we are everywhere. Forwards will line up in the centers, and centers will be in the pack rucking. It is a good type of rugby to watch." And personally, Gross is pleased with what the change of style has done for his handling skills.
The 6'9" lock's other goal for the current season is increased leg strength. "I'm building up the amount I lift," says the 260-lber. "I know that rucking and scrummaging are a big part of my job for the US and I want to be better at it."
Improved strength would round out the Luke Gross package: a little known fact about the Eagle lock is the speed that goes along with his size. He is one of the quickest men on the team, perhaps most graphically illustrated when he chased down one Japan's wings in a '96 Pacific Rim match. And then there's his endurance. He hasn't missed a test for the USA in the last two seasons, providing much-valued stability.
It wasn't a happy campaign in '98 as the team struggled to find form in the second half of the season, but Gross isn't interested in sympathy. "We can't make excuses. We'll take this year one game at a time and play with a lot of passion."
Until the international season, however, there's the Rovigo routine; a morning session at the gym, maybe some line-out work during the afternoons and then team practice in the evenings followed by a meal together-ah yes, the food again. A tough life indeed.