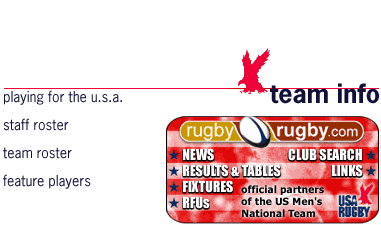 Chris Lippert: A Veteran Still Paying His Debts
Chris Lippert's soft speech and laidback demeanor make him your archetypal Southern Californian except for one thing...his long-standing habit of mixing it up with fearsome front rows around the world.
How long-standing? Lippert has made more appearances for the US National Team than any player ever. During the Pacific Rim series this summer, he surpassed the previous record of 36 caps, a mark held by former US lock and captain Kevin Swords. Lippert has now packed down at prop for the US on 38 occasions in a career that dates back to 1989.
But he's not about to make a big deal about setting the mark. He is, instead, decidedly philosophical: "I've been lucky enough to stay healthy and I'm honored to hold the record now. But it's a record that will be broken, probably not long after I retire."
After almost a decade with the Eagles, Lippert has seen dramatic changes in the scope of the US National Team program: the significant increase in the number of games played each year is one example and if it means his appearance record will be shortlived, Lippert is more than OK with that: "From the very first time I came into the team we were talking about needing more opportunity to play. Now, we're on the right track to move with the rest of the world. We need to play better teams to get better."
The loosehead also singles out the game's increased media coverage as a crucial development in the United States. "You can't underestimate the power of television in this country. We are suddenly being exposed to a lot of people (with the Eagles games broadcast on Fox Sports Net), and that may be the single biggest improvement to the game I've seen."
The connections between exposure on TV, sponsorship and player professionalism are not lost on an athlete who came to the game in a very different era. Lippert notes that nowadays players can expect modest retainers to partially offset the financial sacrifices of service with the national side. "Hopefully that will continue to grow and players can devote themselves to their rugby."
It's a topic close to Lippert's heart: "I've sacrificed any type of professional career to this point," he says.
"When I first had the opportunity to play for the National Team I made a conscious decision to not risk making half an effort with rugby or half an effort with a business career because I was trying to do both. When rugby is done, I'll have to pay some attention to that side of my life."
So is there a sense of missed opportunity, that money is just beginning to come into the game? "I wouldn't want to change my timing," he says emphatically. "I consider myself lucky to have found the sport. I never thought I'd go as far as I have and never thought I'd travel the world.
"I don't worry that newer players are going to make more money. My timing has been unique. It was special to feel the amateur spirit of the game and then have a taste of professionalism."
National team coach Jack Clark notes that "'Lip' was a professional long before there was money to pay him." And, as such, it seems typical of Lippert's professional sense of committment that even his favorite memories are about team rather than personal achievements. He cites the Eagles' World Cup match against New Zealand in 1991 as a standout. "The media were predicting that we'd be embarassed, but we earned the All Blacks' respect that day."
Those team values are also reflected in who and what he respects amidst the multitude of opponents he has faced over the years. The 245-pound prop particularly enjoys the challenge of Argentina's pack: "The Pumas have a certain attitude toward scrummaging. Their front row gets a lot of credit, but all eight of them are committed to every scrum. It is an awesome force that they generate."
Given this team orientation, it should be no surprise that when Lippert talks about goals for the future, they are also team goals. "A victory over a Home country is still out there for us," says Lippert who has been part of the Eagle sides that have gradually narrowed the margins against the likes of Ireland and Wales in recent years.
The vision doesn't stop there, however: "As a squad we're looking to get better. We are not satisfied with our level of play. It is our national character that we won't be satisfied until we are in the upper echelons of nations in the world. That's not going to happen overnight, but that is a goal."
While Lippert takes a long term view of the Eagles program, he refuses to contemplate exactly how much more time he has at the top, preferring to talk only about the continuing challenge to improve.
He wants to keep working on his own game: "(Coach) Jack Clark continues to look for the best players and for players who want to be the best. I think I have to keep improving and that's a responsibility I accept," he says.
Lippert notes that the requirements of an international prop have changed significantly in recent years, demanding improved loose play, ball handling and conditioning, all areas he'd like to work on.
Whatever his eventual length of tenure with the National Team, you can rest assured that Lippert wont be lost to rugby when he stops playing. He's certain to be coaching at some level, he says, maybe refereeing, definitely contributing in some capacity: "I'm committed to the sport. I love it. I owe it a debt."


© USA National Rugby Team
Scott Compton
USA National Rugby Team
2802 10th Street
Berkeley, CA 94710
Ph. 510-647-1100
Fx. 510-647-1108