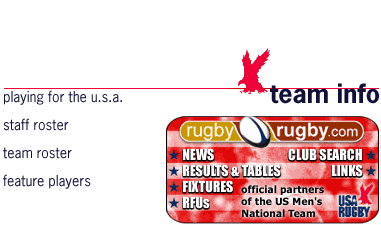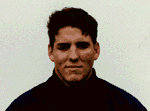 US Captain Lyle Looking For More Moments
Ask Dan Lyle to name the best thing about international rugby, and the answer is simple: "moments."
To win at the test level, Lyle explains, all fifteen players must not only work as a team and pull their weight, but players must produce individual moments of brilliance. Being part of a US team that's producing more and more "moments" is a lot of fun, Lyle says.
As an example, he cites the turning point in May's Pacific Rim win over Japan. Following a loss in broiling Hong Kong and a draining week in the gritty, industrial town of Osaka, Lyle and company trailed the hosts 12-8 with just over ten minutes to play.
Japan had gained an attacking scrum just past midfield, when hooker Sean Allen had a quiet word with his captain. "Seany said, 'I think I can steal one,' so we called a strike against the head and he took it,'" Lyle remembers. "Dre (halfback Andre Bachelet) took it left and way downfield, and Matty (flyhalf Matt Alexander) got to his hip for a give and go pass and a try under the posts." Lyle followed Bachelet's score with a try of his own, and the US went on to win 20-12. "A fantastic, world class play, especially from Seany. What a moment," he marvels. "It set the tone for our three game win streak."
Lyle has seen his share of world-class "moments" since joining Bath in mid 1996 English rugby's "team of the '90s" boasts internationals from six countries. Shaking off a knee injury sustained within weeks of his arrival, Lyle cracked the starting lineup as a second row in December, and preceded to take England's Premier League by storm. By year's end, he was the consensus choice for rookie of the year and named as one of five finalists for player of the year.
But, the US captain points out, the memories aren't enough. Neither Bath nor the Eagles met all their goals last season. For the first time this decade, Bath failed to win either the league or the cup, while a controversial loss to Canada in San Francisco limited the US to a 3-3 Pacific Rim record. The Eagles also crept ever closer to Wales, 34-14 in January on the road and 30-20 and 28-23 in July, without getting the result.
The son of an Army general, Lyle is less intent on reliving what went right last year than figuring out what needs to be improved. "Some of our guys were unavailable and we needed awhile to figure out who plays where and what our best pattern is," he says of the USA's 1997 campaign. "By the end of the season we showed all the dominance in the second Welsh game except for the final score."
Lyle's current season with Bath has gotten off to a faster start. The club has posted an impressive European Cup record. Lyle thinks the 1998 US schedule could do the same.
Excited by the renewal of America's Inter-Territorial Tournament (ITT) in December, Lyle hopes the elite competition will spur American based Eagles to get ready for the coming Pacific Rim season, even while a new crop of National Team candidates comes to the fore. "The best playing the best that's what makes the ITT great. I was stoked by how well the Developmental XV played against Wales last summer, and I'm sure some of those boys and some new guys too will show us they're ready in Tampa."
Lyle knows rugby overseas isn't for everybody, especially guys with an established career or family, which is why he worries that local union and territorial coaches and administrators haven't been doing their part to get US players the games they need. "I played in the ITT for the East in 1994," he notes, "but I can't believe there hasn't been once since. There's only so much the Eagles can do in camps. The guys need the games, and it's up to the union to pick up the slack. (Union officials) need to be honest with themselves and figure out what it takes.
"I get down on our team and definitely myself when we're not getting it done," Lyle continues. "But I can definitely say that everyone who comes into Eagle camps works very hard, twice a day on the field, in meetings, and with film and everything else. I'm proud of my teammates for everything they do and how they do it. So I'm very much in the mind set that we're going in the right direction, but I know that's not true all over the US guys aren't getting the representative games they need and it bothers me because of what I see here in Britain."
A true product of American rugby who started out with Washington RFC and the old Eastern territory, then played with the Gentlemen of Aspen and San Diego's OMBAC, Lyle has some straightforward goals: to keep his place in the starting lineup at Bath, help the West country side win the European Cup and the English league championship, and to lead the US to a winning Pacific Rim season in 1998 as well as qualification for the 1999 World Cup.
With the continuing influx of foreigners to English rugby and especially after the British Lions' summer triumph in South Africa, Lyle is keenly aware of his status as an American on a Bath team with five international backrowers. Just because he had a big rookie year doesn't mean he's automatically on the field. 'I'm obviously a novelty, but I try to hold the hold the flag high. I don't want to play poorly and have people think Americans can't play rugby, because we're really getting better and all of us over here have to be representative of that."
Another way to put the USA's stamp on the game is to qualify for Rugby World Cup 99, something the Eagles and Lyle have never done. The US got free rides in 1987 and 1991 and missed qualifying for the 1995 World Cup by a single try. Although he helped the US to qualification and later the Bowl championship at the 1997 7s World Cup, making the upcoming 15s championship would be a moment to savor. "That's 1998's primary goal, being the first US team to qualify for the Rugby World Cup," Lyle concludes. "I know I can speak for the team in saying we feel responsible for carrying the flag of US rugby. We have no intention of letting America down.
"I'm obviously a novelty, but I try to hold the flag high. I don't want to play poorly and have people think Americans can't play rugby."


© USA National Rugby Team
Scott Compton
USA National Rugby Team
2802 10th Street
Berkeley, CA 94710
Ph. 510-647-1100
Fx. 510-647-1108