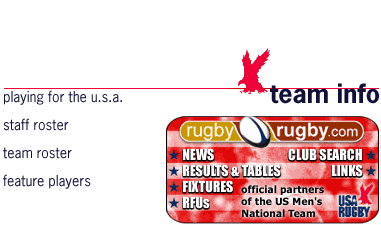 George Sucher:
George Sucher began preparations for life as a prop 23 years ago, he just didn't know it at the time.
Sucher started wrestling at age 7-growing up in Pennsylvania, that's what you do-and continued in the sport right through college at James Madison University. It was only in 1992, as a fifth year assistant coach with his wrestling eligibility over, that some roommates talked him on to the rugby pitch. He hasn't looked back.
Now those wrestling skills have helped Sucher establish himself as one of the nation's best props. "George was a good project prior to '98," says head coach Jack Clark, "but I would say by the end of last season he was our top prop forward. Although not dominant in any area at the international level, unlike most players, he has no significant weaknesses."
On the strength of his form, including the 1998 Inter-Territorial Tournament, there's a strong likelihood Sucher will be part of the Eagles squad right through '99, including the Rugby World Cup. The tough front rower has no qualms admitting his Eagle status is a dream come true.
"Even as an adult, I would watch international and Super 12 tapes religiously and dream," he says. "I was in my 20s and dreaming about how it would be so unbelievable to run out there representing your country. It was like being a little kid."
That's the good news. Now here's the hard part-keeping that form, that physical and mental edge, ensuring the dream stays real. Sucher maintains the type of grueling schedule that any serious amateur athlete will identify with. He works long days for Network Software Associates, a salesman for the Washington DC company that specializes in web-based reporting software designed to work with mainframes. The twelve hour days go part of the way to making up for time lost to rugby, a partial thank you to two very understanding bosses, he says.
And its when he clears the office about 7.00 PM that the fun really begins-either club training or a two-hour session weights session plus a run. He's usually home around 10.00 PM and its straight to bed so that he can be up for work the next day. With games on Saturday, Fridays are the only day off while Sundays are for running and stretching. Most serious rugby players can identify with the grind, but if you've never tried such a regimen, have a go for a couple of months-you'll gain a new understanding of the words 'fatigue' and 'social life.'
Sucher admits he hasn't always trained quite this hard: "It's maybe since '96 when I was part of an Eagles trials camp that I've really gotten into training on my own, got focused," says the 6'0" 247 lber. The Las Vegas camp and some success at the top levels of club rugby about the same time, he says, convinced him he had a shot at pulling on the Eagles jumper.
When the step up to test rugby finally came in June of last year against Canada, it was a big one, but not outlandish, according to Sucher. "It's a lot more physical in an international, there's much more rucking than at club level. But you know its part of the game, there's no whining about it. You take your lumps and you move on."
Of course, the scrum is a new beast at the test level too, and already in his short career Sucher has seen some of the best, including the Maple Leafs and, of course, Argentina. But this is where his wrestling skills, his ability to find and exploit levers and arm positions, impresses the coaches.
If you were to pick a time to make a debut for the United States, the second half of 1998 probably wouldn't be it. The team slumped to three straight losses in the home leg of the Pacific Rim and then went into the cauldron of Buenos Aires for Rugby World Cup qualifying, posting a 1-2 record.
Sucher is unfazed by the tough start to his international career however: "We've nowhere to go but up," he states. "Its conceivable that we could get to a quarterfinal playoff in the World Cup. I'm just trying to work hard and do well."
Coaches want him to increase his raw strength and explosiveness so that he can put a physical stamp on the game, and that sounds like a call for more gym time...who said dreams come free?