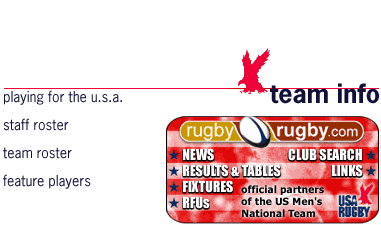 Vaea Anitoni: His Game Does the Talking
A couple of years ago, Cleveland Rovers winger Ben Harraway came into Eagles camp eager to make the jump to the international level but a bit unsure how to go about it. He paid close attention to the coaching staff and ran the drills as hard as he could, but still test rugby looked like a bridge too far.
Then, following an afternoon practice, Harraway made a breakthrough. "He's taken the first step to becoming an international wing," one of the US coaches noted approvingly as he watched Harraway out on the field. "He's doing whatever Vaea does."
While his teammates were changing, star Eagle wing Vaea Anitoni remained on the pitch running extra wind sprints, closely followed by his new understudy.
The snapshot speaks volumes about Anitoni and why he has become the USA's all-time leading try-scorer, now totaling a phenomenal 23 tries in 25 international matches. The quiet but gifted 27-year-old tenaciously readies himself to play rugby, and the example he sets commands respect.
"If I were a young wing trying to make it international rugby, I'd go right to the source," confirms Tom Billups, the (London) Harlequins hooker who served as tour captain on the USA's recent trip to Portugal and Spain. "I'd go right to Vaea."
One of the fastest men on the team, Anitoni also possesses explosive quickness and the ability to change direction at near-top speed. He is a sure tackler and a good kicker of the ball, while his passing skills make him a very good flyhalf as well as a standout wing.
Not surprisingly, that all-around skills package makes Anitoni one of America's top 7s players. His accomplishments in the abbreviated code include a US club championship, US territorial title, and a Bowl championship while playing for the Eagles at the 1997 7s Rugby World Cup.
But the Eagles wing has never been content to rest on his talents or his laurels. Always one of the fittest players in camp, he exudes dedication in his approach to every facet of the game, from working with coaches to watching game films. "
"I've coached probably 400-plus practice sessions with the Eagles," says US head coach Jack Clark, "and I remember only a handful when Vaea wasn't the first out on the field, ball in hand, warming up."
Anitoni puts a philosophical spin on his preparation: "He who sweats the most in peace bleeds the least in war,"he tells those who ask about his work ethic."When you wake up in the morning, you have to think what you're going to do on the field. "Practice like a champion, play like a champion. If you practice like a winning side, you already know you are going to be a winning side."
On defense, Anitoni plays like the former fullback that he is, always ready to make the last, try-saving tackle. "As a wing, I can't underestimate anybody, especially my opposite. I assume he is the best player on their side," he says.
Such focus makes Anitoni a natural leader on his club side, Northern California's San Mateo. Modest about his Eagle status and not the captain, he is nonetheless the go-to guy.
Similarly, his US teammates would practically "lie down in traffic for the senior winger," notes Jack Clark. Perhaps nothing finer can be said of the first-generation Tongan-American, whose own sacrifices to live in the United States and play rugby for the National Team have been considerable.
As a teenager, for instance, Anitnoi had to choose between a college engineering scholarship in Fiji or the uncertainty of study in America and the chance at the immigrant dream. With the approval of his family, he chose the latter.
He lived in Los Angeles, then the San Francisco Bay Area, all the while writing to his best friend telling her of his doings in America. Eventually, on the way home from school in London, she stopped for a short visit. "I changed her mind about staying," Anitoni now laughs of his wife of two-and-a-half years. The couple live in San Carlos with their year-old son.
Ironically, "Rugby was not part of my plan," he says. Still, the SkyWest airline ticketing agent routinely puts aside his professional aspirations to make himself available for the US National Team's yearly 100-day commitment. "Just knowing you are one of the few who are picked to represent the United States of America in rugby is worth it," he says.
"There is not enough time to spend with my family and friends because of traveling with the team and training," Anitoni laments, but the opportunity to be part of the US team at a time of dramatic change makes the sacrifice worthwhile. "I think about doing this for my country and, particularly, my family. I always think about them when I go out and play."


© USA National Rugby Team
Scott Compton
USA National Rugby Team
2802 10th Street
Berkeley, CA 94710
Ph. 510-647-1100
Fx. 510-647-1108