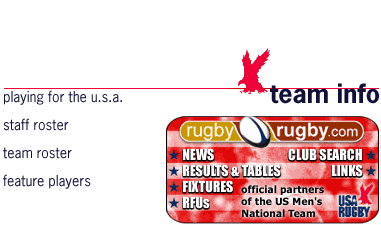 Hightower: Back in Action, Stronger than Ever
Call him hard-nosed, but don't call him hard-headed.
Eagles winger Brian Hightower took a new look at the game of rugby this past season, and now he wants to give his own game a new look too. Hightower spent a lot of time on the sidelines in 1998, some of it by choice as a collegiate coach, some of it an enforced injury layoff. His Dartmouth College side went undefeated in league play this fall, thanks to some strong play from the loose forwards, Hightower says, and some raw speed on the outside.
And there's been an added bonus: "Coaching gives me good perspective on my game, "the Virginia native says. "Some of the things I'm teaching I could stand to learn from too-my game is pretty raw as well."
Raw or not, the Eagle wing shares the US single-game try-scoring record with four (against Japan in 1996). He's also a regular in the National 7s team. This December he'll be back in Dubai where he played his way onto a tournament all-star team in 1997.
However, 1998 won't go down as his most memorable season ever. Hightower tore ligaments in his right foot during an Aspen club practice session early in the year and struggled to get back to full health. Two screws were needed to stabilize the foot while it healed. "I tried to get back out on the field early so that I'd be available for the Pacific Rim Championship," he explains, "and ended up with two big fractures in my foot, because the screw holes were not healed. There was frustration on top of frustration."
That meant a lot of time running in the pool-good for the body, but perhaps not so good for the mind. "It's incredibly boring, but it's a good workout," he says. You definitely get aerobic work and you go through a full range of motion without pushing off."
But, other than a rehab regime, "there isn't a lot to do in Aspen on one foot," he says, and the 28-year-old didn't take to being to a bystander rather than a competitor. "I was getting bitter and angry," he admits. "I had to get away to clear my mind."
There's a happy ending to his story. Hightower made it back to full fitness for the Eagles tour of Fiji and was available for the historic Rugby World Cup qualifying tournament in Argentina.
Moreover, with the foot frustration behind him, Hightower can see some benefit to the layoff. "I think I'm probably healthier than I've been in years. Before the foot injury, I had a groin problem and shin splints. Adrenaline can get you through, but it is nice not to have to worry about those niggles."
At Dartmouth he is in a graduate program, pursuing a certificate in education. Hightower says the credential will prepare him to teach high school history--eventually. Hopefully, there's a lot of rugby in the short term, and Hightower is grateful to the Ivy League school, which allows him to put rugby first, stretching a one-year program around his playing commitments.
So the 185-pound wing, with head clear and body healthy is looking forward to the packed 1999 schedule with relish. Between the injury and the coaching, the sideline time has allowed him to step back and analyze his own game, and Hightower sees there's a lot to see: "In Fiji and Argentina, I was able to play, but I was concerned with my match conditioning rather than exceling. But now, all my focus is being really prepared for the Rugby World Cup. [First,] I want to work on my speed, leg strength, and quickness, and use that as a base for everything to come.
"Then I'd like my vision to improve, I'd like to see the game better. This goes with experience. One of the things [fellow Eagle wing] Vaea Anitoni has over me is the ability to see the game develop and be in places where he can have an impact. I'd like to have more ball in my hands, and so I've got to get into position to get more ball."
There probably aren't many wings playing at any level who would say they didn't want the ball more. Equally, there probably aren't many who'd take a look at their own game rather than put responsibility on the rest of the team. And that is the crux of Hightower's attitude and philosophy, the demeanor that makes him a manager and coach's dream. He is always prepared, but always prepared to learn more as well.
"If you learn more, you play better. And you can always play better, always. "I've never taken rugby for granted," he says, "especially at the international level. And that might be why I'm always getting injured in practice. I've always felt that my job was on the line."
That philosophy reflects the very nature of his position where you might see the ball two or three times in a game, and are fully expected to make something happen with each touch. Conversely, on defense, you're it. The last line of cover. There's no one else to hide your mistakes.
"You're definitely under the microscope," Hightower says, "and that can make for a very long day. I've been there before, been burned on a play. The things you've done poorly are the things that you remember."
Hightower has some other motivating memories too. His career's highlights include a debut on the hallowed ground of Cardiff Arms Park in Wales, and being part of the RWC 7s in Hong Kong in front of a 50,000-strong crowd, which Hightower remembers as "staggering."
And then, he says, there is an extraordinary moment at the beginning of every international game. "When you're lined up and the national anthem is playing, it's surreal, existential. You can't believe that you've been selected to represent your country. I get emotional."
Every time? "Definitely. If you don't feel that way, you must be missing a little bit of the point."