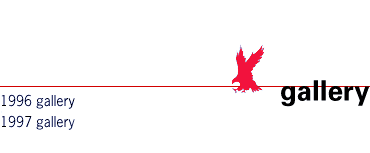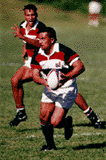 All of these Pacific Rim Rugby Championship photos are set at San Francisco's Balboa Park Stadium, but the USA wore the red, white, and blue-striped jumper only during May 11's contest with Canada. Visiting Hong Kong and Japan chose jerseys similar to the Eagles' first-choice kit; as is customary in international rugby, the hosts donned their backup jerseys, in this case a solid white shirt.

All photos by Aric Crabb. © Aric Crabb and the USA National Rugby Team.

---
The United States prior to May 11's 19-12 win over Canada in San Francisco.

Powerful Tomasi Takau occupies two defenders as teammate Joe Santos closes in support.

Captain Dan Lyle leads the charge, with Tom Billups, Rob Lumkong, and Luke Gross (l-r) close in support.

Lock Luke Gross sails over two Canadian defenders to secure lineout possession.

The intensity of scrummage at the test level: versus Canada in San Francisco.

The United States prior to June 29's 42-23 victory over Hong Kong in San Francisco.

Prop Bill LeClerc on the way to his first international try, versus Hong Kong.

High-scoring wing Vaea Anitoni leaves the opposition flat-footed.

Flanker and captain Dan Lyle starts upfield against Hong Kong.

Anitoni again, on about to score his second try of the afternoon.

The United States prior to July 6's 74-5 victory over Japan in San Francisco.

Flanker Richard Tardits outleaps his opposite to steal a Japanese lineout.

Halfback Andre Bachelet with one man to beat. Loosies Dan Lyle and Richard Tardits follow.

Flanker Dan Lyle delivers a punishing blow.

Richard Tardits squeezes through a gap and heads for Japan's line.





© USA National Rugby Team
Scott Compton
USA National Rugby Team
2802 10th Street
Berkeley, CA 94710
Ph. 510-647-1100
Fx. 510-647-1108