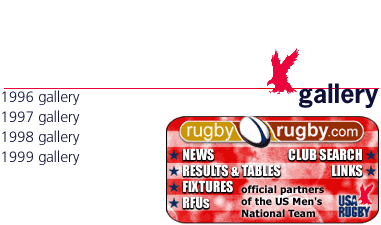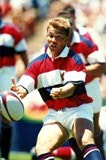 1997 Squad Photos

Eagles action comes to you from Balboa Park, San Francisco, during the USA's Canterbury of New Zealand Pacific Rim Rugby Championship homestand in June and its match against Wales in July.

Photos by Joel Capra. © the USA National Rugby Team.

---
The US lines up for the "Star Spangled Banner," ready for action against Hong Kong.

Dan Lyle winning lineout ball against Japan in the 7s Rugby World Cup, held in Hong Kong.

Center Mark Scharrenberg feeds the ball to flanker Mika MacLeod against Japan.

Center Mark Scharrenberg on the burst against Canada.

The tough men up front.

Flyhalf Matt Alexander is all concentration feeding the Eagle centers during the Can-Am tussle.

Vaea Anitoni stands strong in the tackle against Welsh winger Nigel Walker.

Flanker Jay Wilkerson has played both professional football and rugby.

Fullback Chris Morrow draws the defense and prepares to get his pass away against Canada .

Tomasi Takau takes on the Welsh defense.

Scrumhalf Andre Bachelet clears from a maul in the Wales match.

Flyhalf Matt Alexander provided one of the season's highlights with a 59-meter, matchwinning kick against Hong Kong.

More Matt Alexander, the all-time US points-scoring leader.

Wing Vaea Anitoni on the rampage against Japan.

Lock Cliff Vogl readies to contest a lineout with the Hong Kong pack.

Winger Brian Hightower breaks a Welsh tackle.





© USA National Rugby Team
Scott Compton
USA National Rugby Team
2802 10th Street
Berkeley, CA 94710
Ph. 510-647-1100
Fx. 510-647-1108