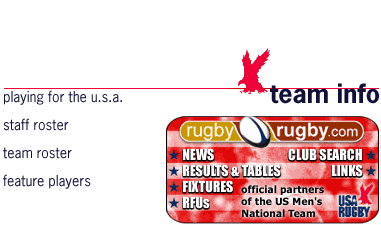 Staff Roster
Duncan Hall
Head Coach ... appointed in January 2000 ... first assignment with the USA will be the 2000 Pacific Rim Championship ... led English club side Worcester in 1999 ... the forwards coach at England's Leicester from 1996 to 1998 ... Duncan and 1991 World Cup winner Bob Dwyer steered the Tigers to victory in the Pilkington Cup and to the European Cup final in 1997 ... the Queensland Rugby Union's Director of Coaching from 1994-96 ... coached Australian Capital Territory's Under 21 team in 1989-90 and the Australian Institute of Sport's Combined States U21 in 1991-92 ... attained Australian Level 3 Coaching Accreditation in 1992 ... .first team coach at Sydney's Gordon club in 1987-88 and for Canberra's Tuggernanong from 1989-92 ... earned 15 caps at lock and No. 8 for Australia between 1980 and 1983 ... .played 75 matches for Queensland ... .spent one playing season in Italy with CUS Firenze in 1983 ... played his club rugby with Brothers and Universities (in Brisbane) and Gordon (in Sydney)
Tommy Smith
Head Coach, 7s ... took charge of the USA for the 2000 international season and the new World 7s Series ... posted a 2-3 record in the United Arab Emirates with victories over Kenya and Hong Kong ... battled through Uruguay and Argentina in January recording a 3-6 record in two tournaments with wins over Brazil, Peru and Uruguay ... competition got stiffer on the New Zealand-Fiji-Australia leg of the circuit with the US recording a solitary victory over China ... Smith is best known as one of the USA's great exponents of the abbreviated game ... captained the Eagles 19 times and made 55 appearances in all ... claimed the "best and fairest" award at Hong Kong in 1986 ... coached at UCLA for 10 years ... twice steered a Pacific Coast side to the semifinals of the Dubai 7s tournament
Jack Clark
General Manager ... took charge of the USA National Team as head coach and general manager in June 1993 after guiding USA Rugby's university All-American program from its birth in 1987 ... steered the rebuilding Eagles to a narrow 26-22 loss to then-world champion Australia in October 1993... in 1994 Clark's charges missed qualifying for the World Cup by a single try, and traveled overseas, to Ireland, for the first time since the Eagles went to Australia in 1990 ... his 1995 edition posted the first-ever US victory over Canada on Canadian soil ... 1996 opened with a close loss to Ireland, 25-18, in Marietta, Georgia ... finished second in the inaugural Pacific Rim competition, and a narrow third in the 1996 Pan American Championship, failing to become the unbeaten titlists by nine points ... finished 4-6 on the year ... 1997 opened with a January trip to Wales, the team's first visit there in ten years, and a tough 34-14 loss to Wales ... finished tie for second in the 1997 Pacific Rim, and dropped two narrow games with touring Wales, 30-20 and 28-23 ... turned in a 4-7 record in 1997 ... 1998 opened with an unbeaten trip to Portugal and Spain, including two lopsided test wins over the World Cup hopefuls ... off to a 1-2, 6-point start in the 1998 Pacific Rim, the USA's best-ever showing on the tournament's road swing, before falling into a three-game home losing streak ... qualified for the 1999 World Cup with a third-place finish at the 1998 Pan-American Championship in Argentina ... 1999 began with a 3-2 record in the expanded Epson Cup Pacific Rim, good for third place ... May's 25-14 victory over Fiji in San Francisco is seen as the USA's first-ever win over an "established rugby nation" ... labeled a heavy pre-World Cup defeat to England as "our most embarrassing 60 minutes of rugby" ... the USA dropped World Cup matches to Ireland, Romania, and eventual champion Australia at the third world championship ... logged a 16-32 test-match record ... as planned, retired from coaching in November 1999 ... as General Manager, has transformed the program from an amateur to a professional footing, playing a key role in the founding of the Pacific Rim Championship and securing unprecedented sponsorship for USA Rugby ... since 1984 head coach at the University of California (Berkeley), where he has piled up twelve national championships in sixteen years ... as a lock forward, capped for the US and appeared for an Overseas XV in 1980 in Cardiff, Wales, before a career-ending injury
Ray Cornbill
Assistant coach … rejoins the National Team for the 2000 campaign and is responsible for the backs unit … steered the USA's development side in 1999 and coaches Manhattan RFC in New York … assistant coach on the Eagles' 1997 tour to Wales … Ray has coached the U.S. Marine Corps team the last three seasons … serves as a Level 1 coaching instructor … sits on the National Technical Panel … former Director of Coaching for the Eastern Rugby Union … former head coach of New York's Old Blue and Eagles head coach in the late 70s/early 80s … heads the Health Services Research and Development Unit at Mt. Sinai medical school and is also Academic Co-Director in the graduate program at the Baruch College school of business.
Warren King, M.D.
Doctor … director of orthopedic surgery for the Oakland Raiders Professional Football Team and the San Francisco Giants Professional Baseball Team … assistant director to the San Jose Sharks Professional Hockey Team … part of the medical staff for the USA National Soccer Teams … Director of the Eagles' Medical staff since 1993 …. partner in the Palo Alto Medical Foundation and staff member at Stanford Medical Center.
Richard Gayle, M.D. ... Staff Physician
Terry Fleener ... Pacific Rim Championship Chairman
Keith Seaber ... 7s Director
Scott Compton ... Media Relations






© USA National Rugby Team
Scott Compton
USA National Rugby Team
2802 10th Street
Berkeley, CA 94710
Ph. 510-647-1100
Fx. 510-647-1108