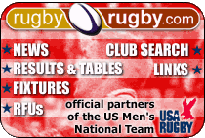 Update: November 2, 1999
USA Rugby Confirms O'Sullivan Resignation

Update: October 29, 1999
USA Rugby Solicits Applications for National Team Head Coach

Six months, four continents, ten matches: Now it's time for the USA National Rugby Team to show its stuff at the 1999 Rugby World Cup!
What's it like to play international rugby? Sit down with the players and get the details in Team Info.

Canada, the South Pacific, Australia, Europe: Where are they playing next? Keep track of USA National Rugby Team matches with our handy Schedule.

Follow breaking stories, in and out of season in Bulletins. You won't find this stuff in the daily paper.

Check out recent photos of Eagle action in our Gallery.

Get inside the Eagle camp by downloading our quarterly newsletter, the National Rugby Report.

Ever think of of playing a three-on-three game of hoop--tackle? Rugby players call it 7s.
How do you do that? The answers are for Webmasters only.


© USA National Rugby Team
Kurt Oeler, Media Relations
Hudson Rugby Fieldhouse
Berkeley, California 94720 4426
phone 510.643.1971 / fax 510.643.2192