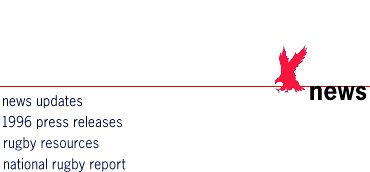 US Announces Tour of Portugal, Spain

(Berkeley, California) 23 December 1997 -- The US National Team today announced a two-week tour of Portugal and Spain in April 1998 that includes test matches with both countries, kicking off the USA's 1998 international season.
The tour's match schedule comprises games against North of Portugal on April 5, Portugal on April 8, and Spain on April 12. The internationals against Portugal and Spain will mark the USA's first-ever meeting with each side, both in the hunt for a Rugby World Cup qualifying spot out of Europe.
The short tour will be an opportunity for the US get started in advance of the 1998 Pacific Rim Rugby Championship, which again has the Eagles traveling in Asia and Canada to open the season. Few road games have been won by the four contestants during the Pacific Rim's first two years, one result being the USA's win over Japan last year in Osaka.
The tour will also be the first opportunity for the US to tap its 1998 player roster, to be announced next month after the Selection Advisory Panel wraps up its Inter-Territorial Tournament report. The April trip is seen as an early chance to introduce a few promising candidates to the test level.
"This is an opportunity for the United States to play against Spain and Portugal, rising teams from Southern Europe, eager to maker their mark in the new age of rugby," noted past USA Rugby president Ian Nixon, now the USA's representative to the International Rugby Football Board. "As I reported to [General Manager] Jack [Clark], they are very eager to play us, and we look forward to the occasion."
Following the Iberian tour, the US will reassemble in early May for the road leg of the Pacific Rim, three matches against Japan, Hong Kong, and Canada. The National Team has cleared the calendar to allow players to represent their clubs at the US national championships. June brings the return Pacific Rim matches on home turf. Negotiations for a July tour are still underway, in advance of August's trip to Argentina for the Americas Zone Rugby World Cup qualifying tournament, where the 1998 team will attempt to become the first US squad to qualify for the World Cup through match play.