Playing for the USA
Eagle standouts like Vaea Anitoni, Andre Bachelet, and captain Dan Lyle talk about life as an international rugby player.
What are the biggest differences between a top-class club game, say an OMBAC-PAC contest, and an international game?

Vaea Anitoni: The level of competitiveness is much higher and the speed of the game is more intense. Players' motivation accelerates because they are representing their country.
Mark Williams: The biggest difference is in international games you have less time. Also the tempo of the game is higher, and the athletes are of a higher standard.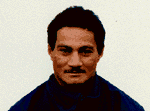 Vaea Anitoni
Position: Wing
Club: Yankees
5'8",170 lbs.
Born: September 20, 1970
Caps: 17
How do you put aside normal competitive rivalries when you join the Eagle squad?

Andre Bachelet: You put aside rivalries, family, and careers when you join the team. The squad is its own family.
Dan Lyle: There's such a big jump from club to international competition that those rivalries must be forgotten or else they hamstring you.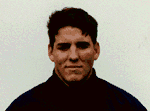 Dan Lyle
Position: Flanker
Club: Bath
6'5", 250 lbs.
Born: September 28, 1970
Caps: 10
Name the most important personal and professional sacrifices you've made to become a test player and represent the United States.
Andre Bachelet: Personal and professional falls into the same category. Not accepting job opportunities is a financial burden. My wife works 50 hours/week and I work when I can, which makes it hard to fulfill our dreams of having a family.
Tom Billups:There has been and continues to be only one sacrifice . . . my family. I haven't been there for them during many tough challenges or to help celebrate happy occasions. You can only do a little over a phone call. Professionally, I'm doing what I have always dreamed . . . be a professional, international athlete.
Luke Gross: I have a masters degree but no professional experience: I've put aside my career.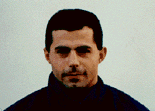 Andre Bachelet
Position: Halfback
Club: Reading
5'7",184 lbs.
Born: March 11, 1970
Caps: 18
What's the most rewarding aspect of being an Eagle?
Vaea Anitoni: Knowing you are one of the few who are picked to represent the United States of America in rugby.
Andre Bachelet: Being able to travel throughout the world and meet talented athletes is awesome, but most rewarding is playing for your country.
Tom Billups: Representing our country . . . there are very few situations in this world that offer you the chance to stand in front of thousands with your hand on your heart, singing the country's anthem on foreign soil.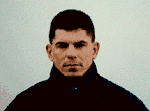 Tom Billups
Position: Hooker
Club: Blackheath
5'8", 205 lbs.
Born: December 26, 1964
Caps: 18
What's the most exciting part about playing for the United States right now, in an era when international rugby is changing dramatically?
Dan Lyle: We are pioneers, able to influence the game for the United States in a positive building process.
Mark Williams: The fact that we have more games now. I think you'll see the Eagles gaining on the likes of Ireland and Wales.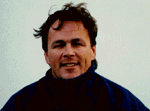 Mark Williams
Position: Flyhalf / fullback
Club: Gentlemen of Aspen
5'11",190 lbs.
Born: June 26, 1961
Caps: 28
What kinds of things can fans expect from the Eagles in the next few years, and how do you hope to contribute?
Andre Bachelet: A running game and a physical, hardworking team that is excited to lift the Eagle program to a new level.
Tom Billups: I think our fans can expect this: dynamic rugby with a tactically sound pattern. We aim to play entertaining matches with players who run hard and forwards who work hard for 80 minutes. Personally, I have no comfort in my test selection. I have to show up and work extremely hard at all aspects.
Luke Gross: Continual improvement and excitement are in the future. I feel fans can expect my play to continually get better.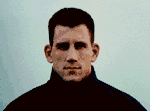 Luke Gross
Position: Lock
Club: Harlequins
6'9", 250 lbs.
Born: November 21, 1969
Caps: 9
After you've finished your career as an international player, what comes next?
Vaea Anitoni:I'll stay home and barbecue every day. I hope someday to have a wife and raise a new family.
Tom Billups: When I've played my last test, I'll try to continual to be active in financially supporting emerging international US players. It would seem a good use of my efforts to help a young player do the things that I was fortunate enough to do, but with more financial help. That's how I plan to give back to the game that's offered me so much.
Mark Williams: Coaching: I want to give back a little of what I've learned to someone else, whether it be college, club, or country.