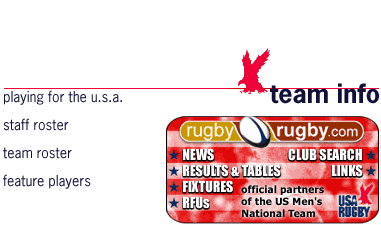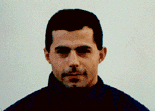 Eagle Andre Bachelet Plays with a Big Heart
Andre Bachelet may be one of the smallest players on the pitch in any given test match, but he is also the Eagles' tough guy.
Take the team's trip to Argentina in '94, for example. Scrumhalf Bachelet led the US into battle against a Puma side that planned on making life miserable for the Americans, who were already facing heat, humidity, and a raucous crowd jeering at them through barbed-wire-topped fences. The Argentineans wanted to physically dominate the game too, and add the Eagles to an impressive list of scalps claimed in the Buenos Aires cauldron-New Zealand and England among them. They hadn't figured on the Eagles fighting back, but with the 5'8", 184-pound Bachelet leading the charge, they found out otherwise.
"We weren't going to let the Pumas push us around," he recalls. "They try to do that. In this case the referee wasn't paying it much attention and a fight broke out."
It was an ugly all-in, but the US team passed a test of character. Although Argentina won the match 16-11, insiders say the international was a defining moment for the Eagles. Collectively, the players realized that they were as determined as the next team, if not more so. Since then, the team has refused to be intimidated, playing tough against rugby powerhouses like Ireland and Wales.
Physical confidence was Bachelet's stamp on the team during his tenure as captain, according to head coach Jack Clark, an important bridge the US needed to cross. "The team that Andre inherited was more mature and so easier to lead because of the work put in by his predecessor Kevin Swords," he said. "Likewise Dan Lyle has a more determined bunch to captain due to Andre's leadership."
Talking about the South American tour three-and-a-half years on, Bachelet is matter-of-fact, neither proud nor apologetic for the Buenos Aires brawl. "I'm always a fiery person whether I'm playing for my club side or the Eagles. If someone is pushing us around, I'm not going to turn the other cheek." After the slightest hesitation, he adds: "If anything happens, there's always a forward there to back you up."
Argentina is often in the players' thoughts nowadays. In August, Buenos Aires will again present a crucial test for the Eagles: They aim to be the first American side to play their way into the Rugby World Cup. The Rugby World Cup 1999 qualifying tournament is certainly foremost in Bachelet's mind. "My main goal for the year? I'd like to help the team qualify for the World Cup, and if I'm part of that side, I want to provide as much leadership as possible."
Back in the States after a season and a half with English club side Reading, Bachelet says his professional stint has made him a better all-round player. "It gave me time to work on my skills with great coaches," he says. "I've increased my overall endurance and speed because I had the opportunity to work on it every day. I also got my coaching credentials from the RFU and that has taught me a more disciplined approach to the game. I set drills for myself now."
Bachelet has seen the best and worst of the new professional era. In addition to the personal improvement that came from practicing daily and playing hard matches weekly, the 27-year-old came to love the Reading club, its coaches, and its supporters. "Initially, the club's members had to vote on whether to go professional or not. Once they decided in favor, they were very welcoming to the incoming pro and semi-pro players, which was great. We finished the '96 season fifth in our division, which was one of the club's best finishes ever. With new players coming for this year, it was very, very promising."
But October of last year saw the club forced to drastically cut player salaries, facing up to the economic reality of professional era rugby after that initial season of euphoria. "For the players with other jobs, it wasn't a big issue," remarks Bachelet, "but for some of us, rugby was our only source of income. It was very hard to leave the team at that point-the players, coaches, and club members were awesome-but my wife and I really had no choice."
The former Collegiate All-American would like to have another crack at playing professionally, but knows it'll be tough: "The good English club sides are lacking forwards, but they've an abundance of backs. It doesn't make sense for them to take up a foreign spot with a back, especially an American whose country doesn't have a long rugby history back [ed. note: clubs are allowed only two foreign players each]. It doesn't make business sense for them to spend money on such a player--I wouldn't do it."
What did make sense was a move to Denver for Bachelet and wife Ashley. "We thought long and hard about returning to San Francisco," says the former Cal and Old Blues (Berkeley) player, "but the cost of living is astronomical." So Bachelet is now teamed up with Eagle flyhalf Matt Alexander and other rugby players as a mortgage banker and a Denver Barbarian. "The funny thing at work is that the rugby players are more productive than the rest of the office. It is a high-stress, roller-coaster industry, so I guess it is kinda like rugby."
With five years and 27 caps under his belt, the Eagle halfback understands a little bit about that roller-coast at the international level. He recalls the '93 game against Australia as a career highlight, when the US went toe-to-toe with the then-world champions. The Wallabies won 26-22, escaping defeat only when the US bobbled a late, potentially game-winning try while crossing the line. "Even though we lost, it was a great moral victory," says Bachelet.
He also has fond memories of the Eagles' Bowl-winning performance at last year's World Cup 7s in Hong Kong. "It may seem a little moment since it wasn't the Cup or the Plate, but the US won a division and has a part in the history of World Cup 7s." A 20-plus cap career doesn't come without a few low points, however, and Hong Kong was also the site for one of Bachelet's least favorite memories. He describes last year's Pacific Rim loss to the Dragons as "humiliating."
The chance for redemption is now only a few months away, and Bachelet is eager to put his expanded game to work for the national side. ("I've been working on my kicking--off the wrong foot and from the base of the scrum. Hopefully, that can be an asset to my game and to the team.") In fact, it will be a better-prepared US team that heads to Asia this year. In addition to the players like Bachelet who have been improving their game as professionals, the squad will be primed for the away leg of the Pacific Rim Rugby Championship by the previous month's tour to Spain and Portugal.
It will all help carry the US closer to what Bachelet sees as its next goal: "I think, physically, we are now a tough team and getting tougher. And we're certainly mentally tougher than in the past, but we must be able to sustain that focus for 80 minutes." Bachelet's teammates already know where to look for toughness-the diminutive scrumhalf with the big emotional fire inside.


© USA National Rugby Team
Scott Compton , Media Relations
Hudson Rugby Fieldhouse
Berkeley, California 94720 4426
phone 510.643.1971 / fax 510.643.2192