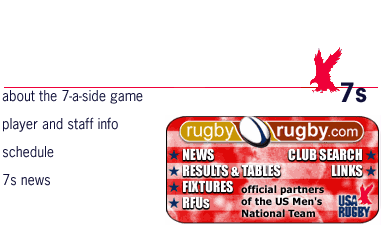 7s: USA through to Rugby World Cup
(Berkeley, CA) 7 May 2000 -- The USA has fought its way into the Rugby World Cup of Sevens.
A 5-2 performance in Santiago, Chile at the weekend's qualifying tournament saw the Eagles claim the third and final seed from the Americas and earn a trip to Argentina in 2001.
After two days of rugby, the Eagles' chances came to rest on the final match against Uruguay and the Kevin Dalzell-captained side clinched its berth with a 21-17 victory. Tries came from Vaea Anitoni, Nelo Lui and Dave Hodges.
"It was truly a team effort," noted coach Tommy Smith. "We improved all the way through the tournament, particularly on defense. We caused a lot of turnovers and attacked well with that ball."
The 7s team opened pool play on Saturday with a 39-0 victory over Colombia. Prop Dave Hodges and halfback Nelo Lui scored two tries each, and Dalzell, Anitoni and Malakai Delai also crossed the line. The US next dispatched Trinidad & Tobago, 36-5. Lui added two more tries while Anitoni, Delai and Don Younger also scored.
The margin of victory was even greater against Peru. In a 55-0 result, Anitoni had three tries, wings Jason Raven and Jay Bronson two each, and Hodges and Craig Hartley also crossed for the US. The final pool match, meanwhile, was a 28-5 loss to Canada with Bronson the sole US scorer.
In the ten-team tournament's other pool, Uruguay and Chile were clearly the front runners. Heading into Sunday's knock-out rounds, it meant four teams were vying for three spots to the World Cup.
A quirk in the seedings saw the USA play Trinidad & Tobago once again in the quarterfinals, where two tries each to Anitoni and Hodges paced the Eagles to a 24-7 victory. Next up was Canada for the second time in as many days, although this time the more cohesive US side stretched the Maple Leafs, leading 12-7 at halftime before slipping to a 26-19 loss.
Chile, meanwhile, beat Uruguay in the tournament's other semi-final to secure a RWC7s spot, leaving the US and Teros to fight for the final berth. The Eagles scored early in their do-or-die match, and perhaps relaxed a little. They lead only 14-7 at the half, and had to stave off the Uruguayans for the crucial win.
The Eagles are back in action at the Paris 7s late in the month, the final leg of the inaugural World 7s Series.
************************
International rugby comes to the Northeast next month when the USA plays
Canada in Manchester, NH on June 3rd. For tickets and information, call
1-877-RUGBY59 or go to www.usa-eagles.org.
************************




© USA National Rugby Team
Kurt Oeler, Media Relations
Hudson Rugby Fieldhouse
Berkeley, California 94720 4426
phone 510.643.1971 / fax 510.643.2192