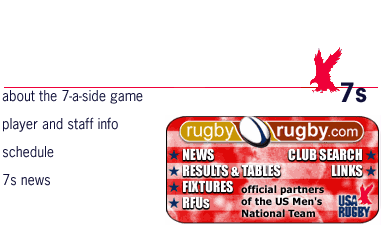 Side for South Pacific Tour Named
(Berkeley, California) 31 January 2000 -- One new cap joins the USA 7s side for the New Zealand-Fiji-Australia leg of the World 7s Series that begins this week.
Prop John Younger from Indiana, a former U19 player for the USA, joins an otherwise experienced side for the third leg of the new international sevens circuit. "John is only 20 years old and has a bright future," noted head coach Tommy Smith. "The themes for our team are fitness and defense, and he can help us in those areas immediately."
Younger will join his brother Don on the Craig Hartley captained side while the only other new face on the 12-man roster is wing Bob Lockrem, who rejoins the national side for the first time since 1996. Lockrem brings versatility to the team with his ability to play at prop as well as wing, and shares the defensive emphasis sought by coach Smith.
"We'll also be looking to contest for the ball better in loose play," noted Smith. "We need to win more possession."
The side which left Sunday for the inaugural New Zealand International Sevens, will have its work cut out in Wellington facing Fiji, Argentina and Papua New Guinea in pool play on February 4th.
"We're building for Hong Kong and the Rugby World Cup qualifiers later in the year," said Smith. "We've a nucleus of players who have been on all three of our trips this year and our pattern of play and defensive strategy will get tighter thanks to this three week assembly.
"We're also looking for an upset victory or two along the way. We'd love to beat one of the big guys," he added.
After the Wellington tournament, the USA moves on to the world circuit stops in Suva, Fiji and Brisbane, Australia.
United States: Craig Hartley, Brian Hightower, Chris Kron, Nelo Lui, Bob Lockrem, John McGeachy, Toshi Palamo, Steve Robke, Mike Skahan, Ben Trautwein, Don Younger, John Younger.
Coach: Tommy Smith; Manager: Terry Fleener; Physiotherapist: Jeff Ward.


© USA National Rugby Team
Scott Compton
USA National Rugby Team
2802 10th Street
Berkeley, CA 94710
Ph. 510-647-1100
Fx. 510-647-1108