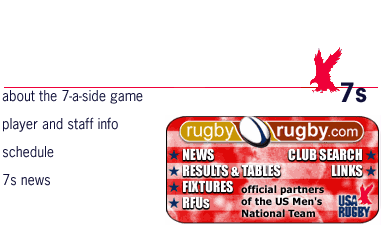 Scant Reward in South Pacific
(Berkeley, California) 21 February 2000 -- Performance improved for the USA on the just-completed South Pacific leg of the World Sevens Series although victories remained elusive.
In Brisbane this past weekend, the Eagles notched up a solitary win, a 29-12 result over China, after pool play losses to Australia and South Africa. Flyhalf Toshi Palamo, center Craig Hartley and scrumhalf John McGeachy (twice) had tries for a USA side that was relieved to record a minor victory after an extended drought.
"Amen," said head coach Tommy Smith. "We were starved for a win. Our fundamentals and our pattern of play have improved on this trip, and this was a small reward."
The US had, quixotically, played tough against an in-form Australian side in the first Brisbane match. Trailing only 7-0 at the half, Australia piled on the pressure in the second half. It was 40-0 at fulltime, with the host nation destined to reach the tournament final.
"We were discouraged by that Australia score," noted Smith, "and we just couldn't get the ball against South Africa." The Springboks also notched up a 40-0 win over the USA team which finished the day with the win over China and then bowed out of the bowl competition with a first-round loss to Hong Kong, 22-12.
After flashes of good form in Wellington, New Zealand, on the first leg of the tour, the US side had a desultory 0-4 stop in Fiji last week, losing to Fiji, France, Uruguay and Papua New Guinea.
Said Smith: "We showed improvement but the competition was stiff in these three tournaments, more so than in South America or Dubai." In Suva, the playing surface was a quagmire and play was generally sloppy, he added. With teams unable to move the ball in the heavy conditions, forward oriented sides such as Uruguay did well.
Back on firm tracks in Brisbane, Smith's side regained some measure of form, if not enough to seriously challenge heavyweights such as Australia.
Looking forward to the next leg of the World 7s Series, question marks hang over John Younger (neck strain), Nelo Lui (deep thigh bruise) and Brian Hightower (knee). The USA will take a few days before naming its side for the Hong Kong and Japan 7s.
United States: Craig Hartley, Brian Hightower, Chris Kron, Nelo Lui, Bob Lockrem, John McGeachy, Toshi Palamo, Steve Robke, Mike Skahan, Ben Trautwein, Don Younger, John Younger.
Coach: Tommy Smith; Manager: Terry Fleener; Physiotherapist: Jeff Ward.


© USA National Rugby Team
Scott Compton
USA National Rugby Team
2802 10th Street
Berkeley, CA 94710
Ph. 510-647-1100
Fx. 510-647-1108