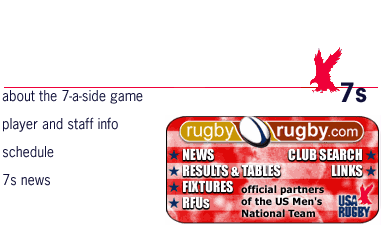 USA Rugby Taps New 7s Coach for 2000 Season
(Berkeley, California) 12 August 1999 -- Former Eagle Tommy Smith will coach the United States 7s team for the 2000 international season, while John Tyler will assume a management role alongside program director Keith Seaber, as the US bids to overhaul its seven-a-side program.
Smith assumes his duties this weekend at USA Rugby's club 7s championships in Conshohocken, Pennsylvania.
The Aspen, Colorado-based Smith is best known as one of the USA's great exponents of the abbreviated game. He captained the Eagles 19 times and made 45 appearances in all, claiming the "best and fairest" award at Hong Kong in 1986. His coaching credentials include a decade with UCLA and twice steering a Pacific Coast side to the semifinals of the Dubai 7s tournament.
Tyler, who's previously served as coach and manager for the US, moves to the position of squad manager, where he will help with scouting, tour planning, and logistics, assisting both Smith and Seaber in their respective roles.
"I'm pleased that both Keith and John have agreed to continue in their work with the 7s program, and in Tommy's appointment, we have a very bright light," US National Team GM Jack Clark said in anouncing the moves. "He's shone brilliance as both a player and a coach, and I have no doubt he will provide a very enthusiastic new direction."
The moves are part of a very deliberate buildup ahead of the next 7s Rugby World Cup in 2001, Seaber said. "This might be described as the 'focus' phase. We assessed a lot of players in the '98 season and then gave a lot of the up-and-comers opportunities in 1999," he explained.
"Now we take the players who can perform at the international level, we put them under one coach, and we choose our events very carefully," he said.
After playing in seven tournaments last year, the Eagles expect to reduce their commitments, increasing the odds that all the program's elite players can make themselves available.
Smith's first priority is to mold a gameplan around the players available to the 7s program. "We've got to play to our strengths, including our athleticism and our innovation," he said.
"My current assessment is that we lack the ability to control the tempo of the game. But this can be turned around in no time."
The one-coach system is a change from last year's three-coach rotation scheme, which included Tyler (now in a squad management role), Bill Russell (unavailable because of work commitments), and Steve Gray (who holds a full-time academic position).
The US 7s program also aims to initiate a player compensation scheme for 2000, Seaber said. "It's our intent to offer our players assembly fees and performance bonuses this coming season. It is doubtful that any of our athletes will be getting rich quick, but it is important to acknowledge the sacrifices they make to be available for international competition and to compensate them in any small way we can."
The USA's 2000 season actually begins in December 1999 at the Emirates Airlines Dubai 7s.


© USA National Rugby Team
Scott Compton
USA National Rugby Team
2802 10th Street
Berkeley, CA 94710
Ph. 510-647-1100
Fx. 510-647-1108