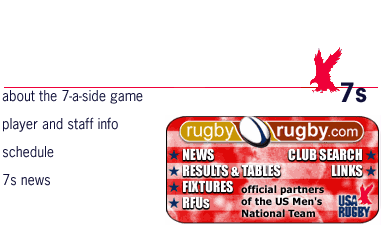 US Names Squad for South American Tournaments
(Berkeley, California) 28 December 1998 -- An expanded and experienced USA 7s team heads to South America for two tournaments next month.
With Uruguay's Punta del Este and Argentina's Mar del Plata competitions only four days apart, the USA will travel with a roster of eleven players--rather than the standard ten. Director of National Team 7s Keith Seaber says the move should minimize injury problems on the extended tour.
"In the past, we've worried about overworking players," he commented, "or running short of healthy athletes toward the end of a long trip like this. The additions to our travel party mean we'll be better prepared to compete to our potential."
Leading the squad are international 7s veterans: halfback and captain Vuka Tau, hooker Brian Hightower, and prop Willie Mahoni.
In addition to Tau and Hightower, four more members of the Dubai squad join the 7s party: props Don Younger and Aseri Batiratu, flyhalf Toshi Paloma, and center Arona Paloma. All four were also members of the ITT champion Collegiate All-Star squad.
Rounding out the roster are flyhalf Mose Timoteo, prop/center Jeremy Revell, hooker Mike Coyner, and wing Chris Kron. Both Revell and Coyner played for the National 7s side in 1998, while Kron and Timoteo too were part of the standout collegiate team last August. Timoteo in fact took tournament MVP honors.
"We have a fast team," commented coach Bill Russell, "and we hope to build on the foundation work done in Dubai."
Seaber will manage the team, with Lisa Gorman of Kansas City providing physio services.
United States: Aseri Batiratu, Mike Coyner, Brian Hightower, Chris Kron, Willie Mahoni, Arona Paloma, Toshi Paloma, Jeremy Revell, Soane Tau, Mose Timoteo, Don Younger.
Coach: Bill Russell; Manager: Keith Seaber; Physiotherapist: Lisa Gorman.




© USA National Rugby Team
Kurt Oeler, Media Relations
Hudson Rugby Fieldhouse
Berkeley, California 94720 4426
phone 510.643.1971 / fax 510.643.2192