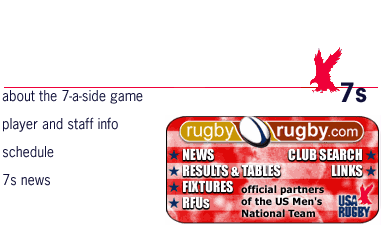 Mar Del Plata Plate Final for Sevens Squad
(Berkeley, California) 20 January 1998 -- The US National 7s squad returned from an up-and-down South American road trip with a second straight Plate final appearance to its credit.
Competing in both the Mar Del Plata (Argentina) and the Punta Del Este (Uruguay) 7s tournaments, the team compiled a combined 3-5 record, reaching the Plate final in Mar del Plata and bowing out in the Plate quarters in Punta del Este.
In Argentina, the US opened with a powerhouse New Zealand team and lost 52-0. Coached by Jason Fox, a former US 7s international with the Cleveland Rovers, the Eagle squad bounced back to beat Spain 26-17, before falling to the Puma-laden Mar Del Plata Select Side, 40-14. In the playoffs, the Eagles put together an important 26-12 victory over Uruguay to reach the Plate final against Canada, but dropped that game 34-7. The US team also made in the Plate final of December's Dubai 7s tournament.
Injuries became a worry for the Eagles as they headed to Punta del Este, as Mika McLeod was sidelined by a bad back and Jason Raven on the shelf with an ankle injury, pressing physiotherapist George Conahey into active duty. Like Coach Fox, Conahey has represented the US in international 7s.
The US continued its patchy play in Punta del Este, beating Paraguay but losing to Western Samoa in pool play. Canada then downed the US in the Plate quarters for its second win in a week, gaining a measure of revenge for losing to the Eagles in the quarterfinals of last year's Rugby World Cup.
Hooker Brian Hightower was the best of the US players, according to US National Team Director of 7s Keith Seaber, who managed the tour. "Undaunted by several stitches in his cheek, Brian scored some great tries in both tournaments. His attitude, athleticism and commitment are exemplary." Hightower was also a pivotal part of the US team's success in Dubai.
The 7s director came away impressed by the need for consistency--several veteran performers weren't able to put together full 14-minute performances--and for still more speed, especially the ability to explode in the first 10-15 yards. However, he was heartened by the play of the team's rookies, Kevin Henderson, Kurt Shuman, and Kevin Dalzell. "These are all players we can work with and develop," he said.


© USA National Rugby Team
Kurt Oeler, Media Relations
Hudson Rugby Fieldhouse
Berkeley, California 94720 4426
phone 510.643.1971 / fax 510.643.2192