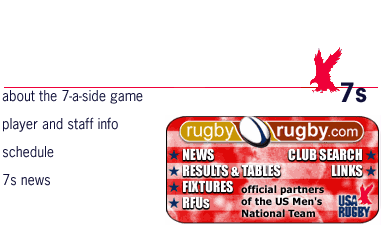 USA Struggles through South America
(South America) 14 January 2000 -- The US 7s team battled through Uruguay and Argentina this week, recording a 3-6 record in two tournaments.
The South American swing has become something of a survival test for the Eagles in recent seasons. This year was no exception with the squad struggling against illness, travel difficulties and limited preparation time.
"Problems like lost luggage and a lack of training fields are expected down here," noted head coach Tommy Smith. "What's new is the increased level of competition due to the start of the world circuit. We're taking steps forward with our program. Other nations are improving in leaps and bounds."
Arriving only the day before competition in Punta del Este, Uruguay, the US lost to Samoa 25-0, and Argentina 46-5, before finding form against Brazil and recording a 38-0 victory. The surprise defeat, however, was a 21-12 loss to Germany in the bowl competition.
Fitness became an issue for the US in Argentina, as most players had picked up intestinal bugs in Uruguay. Illness forced Captain Doug Brown to miss the Mar del Plata tournament altogether, and after flashes of sparkling form in Punta, Toshi Palamo was sidelined with a recurring hamstring problem.
A hard-fought 17-10 win over Peru started the pool round for the US, with John McGeachy, Craig Hartley and Don Younger scoring for the US. However, powerhouse opponents France and New Zealand overwhelmed the Eagles 33-0 and 40-0 respectively.
Day two of the tournament saw the team record a 21-7 win over Uruguay, losing acting captain Craig Hartley to an eye injury in the process. Prop Don Younger again led the scoring with two tries while Hartley and the in-form Chris Kron added one each.
Facing Spain in the second round of the bowl, the US went down 14-7 and the Spanish then cruised through the rest of the bracket to win the division.
Looking ahead to the February leg of the world 7s series (through New Zealand, Australia and Fiji) coach Smith is encouraged by the form of several players, but wants to hone the side's mental sharpness, eliminating the small mistakes that are punished hard in the seven-a-side game.
"We're going to have a tough time in a couple more tournaments, but then I think it might pop loose for us," said Smith.
United States: Nick Bell, Doug Brown (c), Craig Hartley, Kevin Henderson, Chris Kron, John McGeachy, Toshi Palamo, Jason Raven, Steve Robke, Mike Skahan, Ben Trautwein, Don Younger.
Coach: Tommy Smith; Manager: Keith Seaber; Physiotherapist: Lisa Gorman.



© USA National Rugby Team
Scott Compton
USA National Rugby Team
2802 10th Street
Berkeley, CA 94710
Ph. 510-647-1100
Fx. 510-647-1108