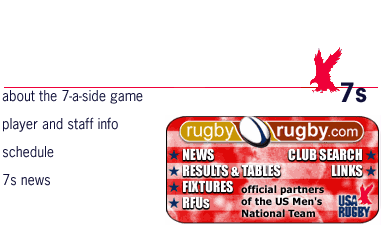 US Names Japan 7s Squad
(Berkeley, California) 10 April 1998 -- The United States squad picked for next weekend's Japan 7s tournament includes five more uncapped players, continuing the development of an Eagles player pool for the seven-a-side code, US 7s Director Keith Seaber announced today.
Flyhalf Nelo Lui, wing David Reis, prop Jeremy Revell, scrumhalf Wayne Whitko, and hooker Matthew Whalen will all see National Team action for the first time. Prop Kevin Henderson is also relatively new to the international level.
Flyhalf and captain Steve Hiatt, part of the US squad to South America earlier this year, and center Malakai Delai, a standout at last month's Hong Kong tournament, are expected to provide leadership and stability. Wing Jon Hinkin also returns from January's tour of South America, while Finau Puloka too is an veteran, though he has not lately played for the US.
The team will feature a new coach-manager combination as well, in former US international Steve Gray and (New York) Old Blue's Blue Al Caravelli, respectively. Gray's resume includes both playing and coaching experience in the Eagle 7s program, though he has been inactive of late, while Caravelli has been a part of the women's and also the All-American 7s programs.
"The experienced players will have a lot on their shoulders," Caravelli said of his charges. "But the trip gives some younger athletes the chance to show what they're made of."
The April 18-19 Canterbury of New Zealand Japan 7s tournament pits the US against hosts Japan and Australia in pool play. Australia is obviously a huge challenge, but "this team can beat Japan even though we'll be playing in front of their home crowd," said Caravelli.
Caravelli been consulting with Old Blue clubmate Bill Russell, who coached the US in Hong Kong, and promises much the same game plan, particularly pressure defense. "We'll try to get into the other team's passing lanes," he said. "Offensively, we will work on getting the ball wide with a lot of support to make up for what we might lack in speed."
United States to Japan 7s
Roster: Malakai Delai, Kevin Henderson, Steve Hiatt (c), Jon Hinkin, Nelo Lui, Finau Puloka, David Reis, Jeremy Revell, Matthew Whalen, Wayne Whitko.
Staff: Steve Gray, coach; Al Caravelli manager.