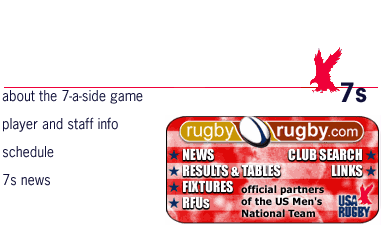 US Frustrated at Japan 7s
(Berkeley California) 20 April 1998 -- The US posted an 0-3 record at the Japan 7s tournament this weekend, leaving the young side frustrated that its rate of improvement just wasn't fast enough.
The Eagles suffered two tough losses on the opening day, losing to Australia 57-10 and to Japan 34-14. In Sunday's bowl semifinal, the US couldn't hold an early lead against old nemesis Korea and fell 17-5.
Featuring several players new to the National Team, the US caught a serious case of the jitters in the first match against a fast and experienced Australian side, according to manager Al Caravelli. "When we finally got our heads in the game, we found we could move the ball and we scored," he said.
Both tries went to wing Jon Hinkin, after crucial set up work by flyhalf Nelo Lui and center Malakai Delai, respectively.
But in its next match, against hosts Japan, the Eagles again started slowly and tumbled to heavy defeat. The game's highlight came when a Matt Whalen tackle forced a turnover and set up Hinkin's third try of the day, finished with a chip and chase by the veteran wing.
Lui scored the team's other try through some individual brilliance that broke the midfield defense.
The US looked to be relatively healthy heading into Sunday's match against Korea. Delai had a painful shin splint and Hinkin a deep thigh bruise, but both players were able to go.
Delai opened the scoring with a third-minute try, made by Lui's break from the scrum and a pretty movement that featured David Reis twice and also Steve Hiatt. But the US trailed 7-5 at the half, and the Koreans later pulled away for a 17-5 victory.
"Our play on Sunday was a huge improvement from Saturday's," said Caravelli, reflecting on his first outing as US manager. "We organized well on defense and made Korea go back. As always with 7s if we had another week training together or another tournament we would have done much better," the Old Blue (New York) and Collegiate 7s program official noted.
Despite the onfield results, three young players showed "huge promise," Caravelli said, and could help the US meet its developmental goals for the 1998 international 7s season. Reis, Lui, and Jeremy Revell are all in their early 20s he noted.
United States to Japan 7s
Roster: Malakai Delai, Kevin Henderson, Steve Hiatt (c), Jon Hinkin, Nelo Lui, Finau Puloka, David Reis, Jeremy Revell, Matthew Whalen, Wayne Whitko.
Staff: Steve Gray, coach; Al Caravelli manager.