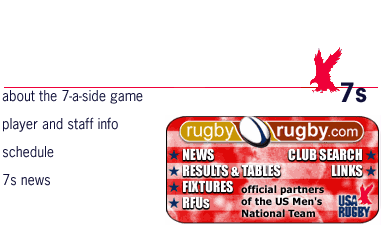 Japan 7s Squad Named
(Berkeley, California) 9 April 1999 -- The US 7s team to Japan features two new faces.
Earning selection for the first time are prop Matt Dallow and hooker/wing Craig Hartley, Director of National Team 7s Keith Seaber announced today.
Dallow, of Belmont Shore, featured in the club 7s championships in both 1997 and 1998 while playing with Tempe. The 240-pounder was an All-American decathlete in 1993 and Pac 10 decathlon champion in '92.
Hartley has a similar pedigree. A standout for OMBAC and the Southern California 7s side the past two years, he now plays wing for Belmont.
"We have had our eye on both players for a while," Seaber commented, "and believe they're ready to make a contribution at the international level. They're touring with players already familiar with our program and style so I'm sure their fit will be seamless."
Captained by prop Rich Schurfeld, the squad also includes scrumhalf Vuka Tau and flyhalf Mose Timoteo, who was part of the Hong Kong side that reached the plate semifinals last month.
Hooker Mike Coyner out of Fairbanks, Alaska, last saw action in South America in January, while wing Michael Skahan, prop Jeremy Revell, and wing Ben Trautwein all travelled to Fiji this season. Center Jason Hill played for the US in Paris last year.
The team will be coached by John Tyler, who led the USA's team to Paris in 1998.
"We've a mature team, with a good deal of experience," Seaber said. "We saw the value of that in Hong Kong. and while this squad doesn't have quite that level of international exposure, they know what to expect."
The USA faces Australia and Argentina in pool play.
United States: Mike Coyner, Matt Dallow, Craig Hartley, Jason Hill, Jeremy Revell, Rich Schurfeld, Mike Skahan, Vuka Tau, Mose Timoteo, Ben Trautwein.
Coach: John Tyler.




© USA National Rugby Team
Kurt Oeler, Media Relations
Hudson Rugby Fieldhouse
Berkeley, California 94720 4426
phone 510.643.1971 / fax 510.643.2192