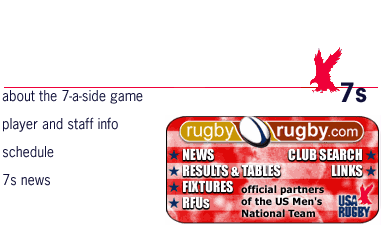 Disappointing Japan 7s Trip for USA
(Berkeley, California) 13 April 1999 -- The US posted lackluster results at last weekend's Japan 7s tournament, failing to build on a positive showing at the Hong Kong 7s.
Drawn against Australia and Argentina, the Eagles dropped both pool matches, 45-0 and 43-14. Wing Ben Trautwein and replacement wing Mike Skahan scored second-half tries against the Pumas.
In Sunday's Bowl semifinal against a Japanese President's VII led by former All Black Graeme Bashop, the US dropped a 19-12 decision in extra time. Scrumhalf Mose Timoteo and flyhalf Jason Hill each tallied for the Eagles, but the team failed to finish several more chances.
The international 7s season ends with the Air France 7s in late May.
United States: Mike Coyner, Matt Dallow, Craig Hartley, Jason Hill, Jeremy Revell, Rich Schurfeld (captain), Mike Skahan, Vuka Tau, Mose Timoteo, Ben Trautwein.
Coach: John Tyler; Physio: Bruce Beekley.




© USA National Rugby Team
Kurt Oeler, Media Relations
Hudson Rugby Fieldhouse
Berkeley, California 94720 4426
phone 510.643.1971 / fax 510.643.2192