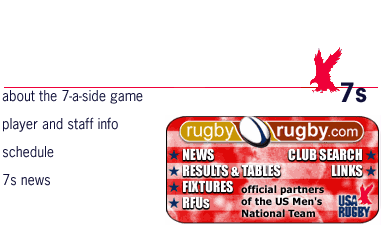 Injury Losses Widen for Hard-hit Eagles
(Berkeley, California) 12 March 1998 -- The injury toll continued climbing yesterday, as winger Brian Hightower was lost to the US National Team for two to three months because of torn ligaments in his foot.
Hightower injured himself during Tuesday night practice with his Gentlemen of Aspen club, and received the bad news yesterday. The six-cap veteran will undergo surgery today to repair the damage.
The mishap rules Hightower out of the US team for the fast-approaching Hong Kong 7s tournament, leaving an unwanted gap in the lineup. Hightower, who plays hooker in the abbreviated code, had consistently been among the leading American international 7s performers over the past year. At December's Dubai 7s, for instance, Hightower won selection to an invitational Northern hemisphere-Southern hemisphere match based on his strong showing for the Eagles.
Hightower would have been a likely choice for next month's full 15s squad trip to Spain and Portugal, but will now be ruled out of consideration.
1997 saw the former William and Mary (Virginia) gridiron standout debut for the United States against Wales at Cardiff Arms Park, and later tie a team record with four tries in a June Pacific Rim match against Japan.
Hightower becomes the fourth National Team pool player--and the second incumbent starter--to succumb in the past month. Capped center Ray Green and number eight Fili Lamenta suffered serious knee injuries while playing in club matches this past weekend, while flanker and captain Dan Lyle damaged his knee during a February club-side contest.
Green and Lyle, who joined Hightower on last year's Plate championship 7s Rugby World Cup team, will both be out of action at least through the Pacific Rim tournament. Lamenta's status remains uncertain.
Separately, National Team 7s Director Keith Seaber was also forced to withdraw from the Hong Kong 7s squad, owing to family matters. The veteran US official was to serve as manager, a role he has often filled.
Despite the short notice, John Tyler will step into Seaber's place. Tyler recently guided the Pacific Coast to its second consecutive 7s Inter-Territorial Tournament win, and also steered his San Mateo (California) club to a US national 7s championship last August.
Hightower's Hong Kong replacement has not yet been named. Al Dekin will captain the US 7s team, and Bill Russell will serve as coach.




© USA National Rugby Team
Kurt Oeler, Media Relations
Hudson Rugby Fieldhouse
Berkeley, California 94720 4426
phone 510.643.1971 / fax 510.643.2192