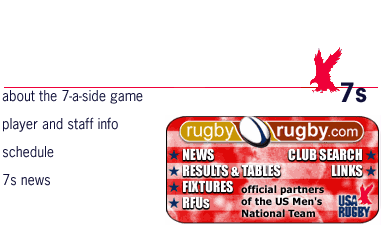 US Struggles at Hong Kong 7s
(Berkeley, California) 30 March 1998 -- The US 7s team heads home from Hong Kong still looking for the keys to success after a 1-3 Hong Kong 7s outing, including a 24-19 overtime overtime loss to Korea in the Plate quarterfinals.
In pool play Saturday, the Eagles lost to New Zealand 45-0, but moved past Singapore 29-26. Five tries in the latter match gained the US entry into Sunday's Plate playoffs, where they met Korea for the second time.
Prop Willie Mahoni scored the first try of the game and halfback Soane Tau added the conversion, but the Koreans took a 19-7 lead before the US could answer with tries by flyhalf Vaea Anitoni and wing Malakai Delai, plus another Tau conversion, to tie the match.
In overtime, a promising US attack was snuffed when two straggling Korean defenders collected a loose Eagles ball. The canny Koreans then finished a simple two-on-one to take the game.
After the nail-biter with the US, Korea went on to easily win the Plate championship.
US coach Bill Russell was frustrated by the result. "We played better rugby in that second match with Korea and should have won, but we didn't get it done.
"The mental approach is as important as fitness and skill, if not more so," he added. "Our training went well, but I don't think we were confident enough on the field."
Russell singled out speedster Delai as an exemplar of the mental focus the US team needs. Anitoni also turned in a strong tournament, the Old Blue (New York) head man said, thanks in part to familiarity with the Hong Kong environment. Both were members of 1997's 7s Rugby World Cup Bowl championship team (a 4-3 trip that included a victory over Korea.)
The value of previous trips to the Hong Kong 7s is immense, Russell summarized of his report to US 7s Director Keith Seabler. "International experience is one thing, but international experience at Hong Kong is another. This is the number one tournament in the world. You play the best of the best in front of 45,000 screaming fans, and you live and breathe the event every second. I think some of our players were unprepared for that atmosphere and that is why Vaea and 'Mala' were such leaders."
While the rest of the 7s team heads home, Anitoni will join the full national side now assembling for the Eagles' tour of Spain and Portugal.