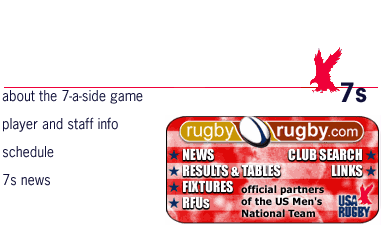 Hong Kong Squad Taps More Experienced Players
(Berkeley, California) 23 March 1999 -- The USA takes a relatively experienced team to the Hong Kong 7s this week, reversing the veteran-to-rookie ratio that has seen young squads in action for much of the 1999 season.
"All of the players have proven themselves internationally, and we have high expectations," said Director of National Team 7s and Hong Kong manager Keith Seaber in announcing the side. "We have a talented team, and I'm eager to get on with this trip."
Captained by Aspen's Brian Hightower, the Hong Kong squad includes David Hodges, Chris Morrow, Alatini Saulala, and Kurt Shuman, all of whom have 15s caps as well as top-class international 7s experience under their belt. Hightower and Morrow were both part of the USA's Bowl championship team at the 1997 7s World Cup, Seaber noted.
Hodges is currently with Welsh club Llanelli, Saulala with San Mateo (California), and Morrow at Aspen. Shuman, meanwhile, made international news earlier this season with an appearance in the Varsity Match between Oxford and Cambridge.
The balance of the team are more specialized 7s players including Vuka Tau, Mose Timoteo, Kevin Torkelson, and Don Younger, who had a strong tournament in Fiji two weeks ago. The prop scored three tries in the plate final after being drafted by Canada.
The newest name on the squad is Doug Brown of the Kansas City Blues, whose performance in Fiji saw him added to the team for Hong Kong. The 27-year-old wing/hooker made his mark with particularly impressive defense during his first international tournament.
"Fiji was an opportunity to develop some young players and see some new faces," noted Seaber. "We are by no means done with our development plans, but with Hong Kong coming so close on the heels of the Suva tournament, we decided to rest most of the young players.
"The older, more experienced, team is probably better suited to handle the demands of the world's biggest 7s event," Seaber added. "They already have the focus that we are looking to foster in our younger athletes. Hopefully, in the near future, the young members of our pool will be ready for tournaments such as Hong Kong and Rugby World Cup 7s."
The US team to Hong Kong, coached by Bill Russell, will face South Africa, Canada, and China in pool play during the March 26-28 tournament.
United States: Doug Brown (wing), Brian Hightower (hooker), Dave Hodges (prop), Chris Morrow (center), Alatini Saulala (prop), Kurt Shuman (center), Vuka Tau (scrumhalf), Mose Timoteo (flyhalf), Kevin Torkelson (hooker), Don Younger (prop).
Coach: Bill Russell. Manager: Keith Seaber. Physiotherapist: Jeff Ward.




© USA National Rugby Team
Scott Compton
USA National Rugby Team
2802 10th Street
Berkeley, CA 94710
Ph. 510-647-1100
Fx. 510-647-1108