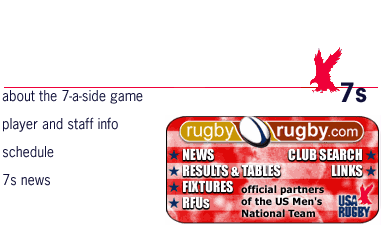 USA Reaches Plate Semifinals in Hong Kong
(Berkeley, California) 28 March 1999 -- The USA 7s team reached the plate semifinals in Hong Kong this weekend, before succumbing 22-14 to Scotland.
The season's best showing to date came at the world's best-known 7s event. The 2-3 outing included victories over China (38-12) and nemesis Korea (28-21), a team that the Eagles have struggled to beat in recent tournaments.
Coach Bill Russell was particularly pleased with the plate quarterfinal win. "Korea have been the monkey on our back," he noted.
The USA followed a familiar path of improvement through the course of the tournament, Russell observed. A 40-5 loss to Canada in the opening pool match resulted from the USA's failure to execute its game plan.
"We wanted to play a possession game, a keep-out-of-trouble approach," Russell explained, but it was only in the second outing against South Africa that the plan began to take effect. The US controlled much of the match and went into the half tied 7-7, only to be undone by three turnovers in the second period, helping South Africa to a 28-14 victory.
US improvement continued, however, with the two consecutive wins and a narrow loss to Scotland. Meanwhile, the opening defeat to Canada took on a new light when the Maple Leafs threatened to upset eventual tournament champions Fiji in the cup quarterfinals before losing 14-7.
Managed by Keith Seaber and captained by hooker Brian Hightower, the US came through the season's premiere 7s tournament relatively free of injury, although prop Kevin Torkelson injured his ankle during training and saw limited playing time.
The US returns to action next month in the Japan 7s.

United States: Doug Brown (wing), Brian Hightower (hooker), Dave Hodges (prop), Chris Morrow (center), Alatini Saulala (prop), Kurt Shuman (center), Vuka Tau (scrumhalf), Mose Timoteo (flyhalf), Kevin Torkelson (hooker), Don Younger (prop).
Coach: Bill Russell. Manager: Keith Seaber. Physiotherapist: Jeff Ward.




© USA National Rugby Team
Kurt Oeler, Media Relations
Hudson Rugby Fieldhouse
Berkeley, California 94720 4426
phone 510.643.1971 / fax 510.643.2192