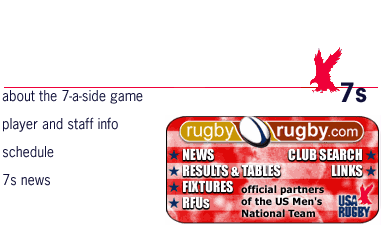 1-2 France 7s Showing Wraps Up '97-98 7s Campaign
(Berkeley, California) 20 May 1998 -- Despite the presence of three young guns, the United States 7s team posted a 1-2 record this past weekend in Paris at the Air France 7s, the last in a string of six international appearances over the last six months.
The international program now subsides as the domestic 7s calendar starts to heat up, heading toward the August club finals.
Standout collegiate players Don Younger of Indiana and Dave Stroble of California proved their ability at the international level along with Combined Services newcomer Mose Timoteo, as the 7s team beat Morocco 24-7 but lost to Manu Samoa 43-14 and the French Barbarians 36-26.
A couple of late tries by the Samoans made for a deceptive margin of victory, said US Director of 7s and France team manager Keither Seaber. The US trailed 15-14 at the half thanks to tries by Younger and wing/hooker Thad Hill, both converted by flyhalf Vuka Tau. But in the second half the difference was a couple of crucial knock-ons by the Americans that killed scoring opportunities.
The US reversed a similar halftime scenario against Morocco. Tied 7-7, the Eagles pulled away after the interval as Hill and Younger each grabbed their second tries of the day, while Tau and Stroble both added a try and conversion.
Sunday saw the US faced an all-star French club selection in the plate quarterfinal. Tries by Stroble, Timoteo, hooker Kevin Torkelson, and center Jason Hill weren't enough as the Barbarians stretched a 21-14 halftime lead to a 10-point final margin.
Seaber praised the play of all three young athletes, but was also impressed by improved form of the rest of the squad. "Every athlete played better than they had in earlier tournaments," he said. "On Saturday we played better than we did in Dubai," he noted, referring to December's season-opening plate final appearance in the Dubai tournament.
Thad Hill's tournament was not over, however. Dangerous all weekend, the Fort Worth winger was a guest selection for the South American Barbarians, scoring one try and contributing several crucial tackles to a plate final win over a Parisian team.
The US National 7s program now heads into an assessment phase, as management evaluates team and individual performances in Dubai, South America, Japan, Hong Kong, and France this year. Seaber's first year at the helm coincided with the first full leg of the four-year buildup to the 2001 7s World Cup, and saw the team field some 30 players and four coaches in an effort to develop a national pool.
United States: Kevin Barth, Jason Hill, Thad Hill, Jeremy Revell, Dave Stroble, Vuka Tau, Mose Timoteo, Kevin Torkelson, Ben Trantwein, Don Younger.
Staff: John Tyler, coach; Keith Seaber, manager.