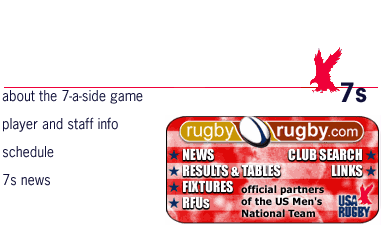 Young Talent Joins US for France 7s
(Berkeley, California) 13 May 1998 -- An infusion of collegiate talent complements the experienced core of the US squad competing at the Air France 7s in Paris this weekend.
Halfback and captain Vuka Tau and winger Thad Hill are both sevens specialists with more than 20 sevens caps each for the USA. They're joined by props Kevin Barth and Jeremy Revell, who have been part of recent Eagle sevens campaigns.
But the headliners could be three of the nation's top collegiate players: Ben Trantwein of the Air Force Academy, Don Younger of Indiana University, and Dave Stroble of the University of California. In particular, Younger (who can play prop or wing) and Stroble (a flyhalf) both featured as playmakers at the collegiate final four earlier this month.
"We're committed to developing young players," said 7s director Keith Seaber when announcing the team. "There's no argument that these collegians are all remarkable athletes. Now we have to introduce them to a new level of competition.
"Don, in fact, was part of the team to Paris last year, his first international appearance. His repeat invitation is proof that these players can make the step up."
The other three athletes on the US squad will also be making their international debuts on the weekend of May 16-17. They are hooker Kevin Torkelson, scrumhalf Mose Timoteo, and center Jason Hill. Torkelson played a key role in Southern California's 1998 runner-up showing at the 7s Inter-Territorial Tournament, Timoteo stood out for the Combined Services at the 1997 15s ITT, while Hill is rebounding from an injury that's kept him out of action for the Pacific Northwest.
The US team's pool is made up of Morocco and highly regarded Western Samoa, who will present the Americans with a formidable challenge.
"Regardless of reputation, it comes down to 14 men on the field during a game," said Seaber. "We played Fiji very tough in Dubai a few months ago, and I'll be reminding players of that when we're in France."
The US team assembled in Paris today, meaning they'll have only three days' preparation. However, the 7s program has been standardizing its style of play over the last few tournaments and the pattern is already familiar to half the players.
United States: Kevin Barth, Jason Hill, Thad Hill, Jeremy Revell, Dave Stroble, Vuka Tau, Mose Timoteo, Kevin Torkelson, Ben Trantwein, Don Younger.
Staff: John Tyler, coach; Keith Seaber, manager.