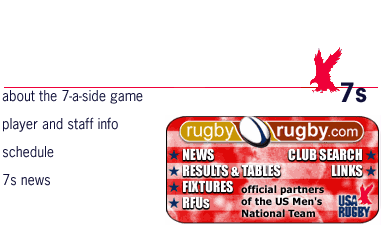 Fiji 7s Team Stays Focused on Youth
(Berkeley, California) 6 March 1999 -- The USA 7s program today announced its team for the Fiji 7s, continuing its commitment to youth despite disappointing results at recent tournaments.
The team to compete in Suva on March 12 and 13 includes three new caps and six players who are 23 years old or younger.
"The coaches and I are determined to stick with our development plans," US 7s program director Keith Seaber said in announcing the ten-player roster. "We have talented young athletes who need to be tested at the international level if we are to build a competitive squad for the long term."
New faces in Fiji include hooker Doug Brown and wing Mike Skahan, both of the Kansas City Blues, and flyhalf Rob Balnis of Frostburg State, Maryland. Brown has played in the national club 7s on six occasions and last year visited Spain and Argentina for non-international 7s. Like his clubside teammate, Skahan's 7s resume includes playing for the West at the 1998 ITTs. Balnis, meanwhile, played with the Collegiate ITT team in both 1997 and 1998, helping the team to its first championship last September.
Another promising collegian is center Ben Trautwein, who returns to the US squad after debuting at the Paris 7s in 1998. Now in his second season with the US 7s program, Indiana University's Don Younger has been selected at prop.
Captaining the squad will be veteran hooker Matt Whalen, who skippered at the Japan 7s last year. Rounding out the side are prop/center Jeremy Revell, who played for the US in Japan and Paris last season and South America this year, and 1998-99 newcomers prop Aseri Batiratu, center Ili Batiratu, and scrumhalf Toshi Palamo, all part of the 1998 ITT championship squad and introduced to international competition in Dubai late last year.
Steve Gray will serve as coach, and George Conahey is manager/physiotherapist is George Conahey. Both are former international 7s players.
The USA's young teams turned in poor outings in Dubai and two South American tournaments to start the current 7s season. "Although we dearly want to win matches, to focus on our immediate win-loss record is short-sighted," Seaber said. "We need to keep looking at the players who project for the future so that by the next Rugby World Cup 7s we have a good team."
The US may field a more seasoned team at the Hong Kong 7s later this month, Seaber noted. "The tournament in Fiji helps us towards our development goals, so Hong Kong may be a chance to take a slightly different approach."
United States: Rob Balnis, Aseri Batiratu, Ili Batiratu, Doug Brown, Toshi Palamo, Jeremy Revell, Mike Skahan, Ben Trautwein, Matt Whalen, Don Younger.
Coach: Steve Gray. Manager/Physio: George Conahey.




© USA National Rugby Team
Scott Compton
USA National Rugby Team
2802 10th Street
Berkeley, CA 94710
Ph. 510-647-1100
Fx. 510-647-1108