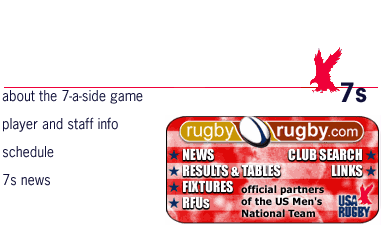 US Runs Out of Steam in Fiji
(Suva, Fiji) 14 March 99 -- The United States posted a winless record at this weekend's Fiji 7s tournament, and may have been a victim of its own success.
Assembling a young squad early in the week to prepare for the tournament's toughest pool--semifinalists New Zealand and Samoa and Cup champion French Froggies--coach Steve Gray's squad played well in narrow Saturday losses to the All Blacks and the Froggies, but look tired in Sunday defeats to Samoa and Korea.
In pool games, the US held New Zealand scoreless for more than six minutes in a 15-5 loss and ran the Froggies 18-15; but let a 5-0 halftime deficit against Samoa balloon to a 40-5 defeat. In the Cup semifinals, the US fell behind 19-5 after conceding a rare penalty try, closed to within 24-19, but then ran out of steam in a 31-19 loss.
Early-week scrimmages against the Fiji Police helped the team immeasurably, but may have cost the team in the tropical heat, according to US manager George Conahey.
"Early on it was obvious that the scrimmages we had against the Fiji Police Club really helped. The guys really came out firing against the All Blacks.
"Our team defensive pressure was great all tournament, but in the end the hard work may have too much in the tropical heat."
Most of the US players were new to Fiji, and haven't had much international experience. Six of the squad are 23 or younger, including prop Aseri Batiratu, center Ili Batiratu, scrumhalf Toshi Palamo, prop Don Younger--all part of the 1998 ITT championship team--and center Ben Trautwein and flyhalf Rob Balnis. Veteran hooker Matt Whalen served as captain.
Host Fiji won the tournament, rated by many as the world's toughest 7s event, defeating Australian Fijians 31-5. The Froggies captured the plate by downing the World Rugby Legends, and Canada--who drafted Younger in its side for the final--took the bowl with a win over Korea.
The US 7s team will be back in action later this month in Hong Kong.
United States: Rob Balnis, Aseri Batiratu, Ili Batiratu, Doug Brown, Toshi Palamo, Jeremy Revell, Mike Skahan, Ben Trautwein, Matt Whalen, Don Younger.
Coach: Steve Gray; Manager / Physio: George Conahey.




© USA National Rugby Team
Kurt Oeler, Media Relations
Hudson Rugby Fieldhouse
Berkeley, California 94720 4426
phone 510.643.1971 / fax 510.643.2192