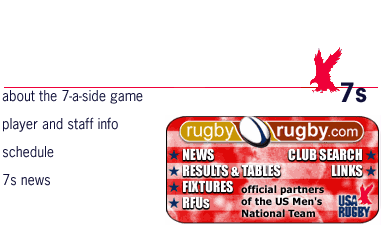 US Selects Side for Fiji 7s
(Berkeley, California) 9 February 2000 -- The USA moves to Fiji this week for the next leg of the World Sevens Series, where Tommy Smith's team faces another fairly daunting pool and concerns with lingering injury.
A winless outing in New Zealand included defeats to world powers Fiji, France, and Argentina. The draw in Suva gets no easier with the US slated to play series leaders Fiji, as well as Australia and Uruguay.
After the Wellington tournament, head coach Smith has one clear goal: "We need to close. We need to make our final passes. We are taking the ball through two or more phases, finding a gap, but then we have trouble finishing."
One or two missed passes let Argentina off the hook in the USA's first match in New Zealand. Up 12-10 at the half, the Eagles let at least two other scoring opportunities slip while the Pumas took their opportunities and a 22-12 victory.
Against Fiji the US again had a strong first half, trailing only 14-10 at the break. But while Fiji continued to score in the second period, the American team left another two tries behind, ending the game down 47-10. The pattern was repeated against Papua New Guinea. Trailing only 12-5 early in the second half, the US offense faltered and PNG ran in three unanswered tries.
In the bowl round, the USA rattled by two quick scores from the speedy French, began to make mistakes which led to a 24-0 win for France. However the US made a positive impression on their opponents. The French later enlisted the services of US wing Chris Kron as an injury replacement in the bowl final. On his first touch, Kron went 80 meters for a try as France went past Croatia 47-12.
Now in Fiji, the US team will look to minimize its mistakes and score from its possessions. The other goal will be to get stand-out prop Don Younger and wing Ben Trautwein healthy after both sustained shoulder injuries in New Zealand.
"The team has worked very hard, although the results might not reflect that" noted Smith. "We'll try to keep ourselves fresh for this tournament and next week in Brisbane."
USA: Craig Hartley, Brian Hightower, Chris Kron, Nelo Lui, Bob Lockrem, John McGeachy, Toshi Palamo, Steve Robke, Mike Skahan, Ben Trautwein, Don Younger, John Younger.
Coach: Tommy Smith; Manager: Terry Fleener; Physiotherapist: Jeff Ward.


© USA National Rugby Team
Scott Compton
USA National Rugby Team
2802 10th Street
Berkeley, CA 94710
Ph. 510-647-1100
Fx. 510-647-1108