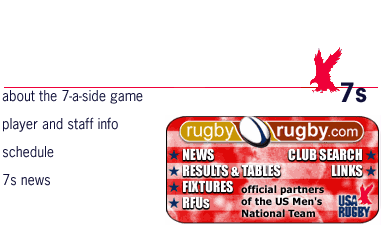 US Kicks Off 1998-99 7s Season in Dubai
(Berkeley, California) 29 November 1998 -- The US kicks off the new international 7s season this week at the Emirates Airlines Dubai 7s tournament, fielding a team that mixes young talent with the proven performers of 1998.
"Half of the players are in their early 20s, and look to be some of the players of the future for the US," noted National Team Director of 7s Keith Seaber in announcing the 10-man squad.
Several of these young guns have already established some credentials. Last May, Dave Stroble and Don Younger played well at the Paris 7s, while newcomers Aseri Batiratu, Ili Batiratu, Toshi Paloma, and Arona Paloma were part of the Collegiate team that took the 7s Inter-Territorial Tournament title this past September in Palo Alto, California.
The balance of the squad comprises Eagle fifteen-a-side standouts Brian Hightower and Tasi Mounga, along with Thad Hill, who went to Hong Kong and Paris with the USA last season.
Captaining the side will be standout scrumhalf Vuka Tau, who traveled on all but one of the National Team 7s tours last season. The coach will be Steve Gray, who last took the National Team to Japan.
The composition of the squad is a sign of things to come for 1999, Seaber remarked. "We are committed to developing a squad for the next Rugby World Cup 7s in 2001, and that work must start right now.
"We gave many players an opportunity last season. This year we will focus on those who can play at the international level or have shown our selectors their potential to do so."
After a program planning meeting of coaches and managers in September, a player pool and schedule for 1999 are taking shape, Seaber said, along with firm goals for the season.
"Without giving our hand away, I can tell you that there are teams we lost to last year who we are determined to beat this year," said Seaber, who will manage the Dubai side. "After a good deal of experimentation in '98, we're focused on the players, personnel, and patterns of play that we want to refine."
Although held in December, the Dubai tournament is considered the beginning of the 1999 season. The US is next planning to send a squad to Argentina in January.
United States: Aseri Batiratu, Ili Batiratu, Brian Hightower, Thaddeus Hill, Tasi Mounga, Arona Palamo, Toshi Palamo, David Stroble, Vuka Tau, Don Younger.
Coach: Steve Gray; Manager: Keith Seaber.




© USA National Rugby Team
Kurt Oeler, Media Relations
Hudson Rugby Fieldhouse
Berkeley, California 94720 4426
phone 510.643.1971 / fax 510.643.2192