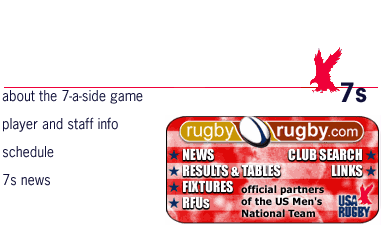 Dubai 7s Team Named
(Berkeley, California) 11 November 1997 -- The US National Team today released its squad of ten for next month's Dubai 7s tournament. International veterans Jon Hinkin, David 'Dixie' Dean, and Brian Hightower head the group, joined by first-time coach Bill Russell and Keith Seaber, the recently appointed 7s Program Director.
The squad features three players from national champion San Mateo and two more from 1996 titlist and 1997 runner-up NOVA. Willie Mahoni, Soane Tau, and Eric Tuipulotu hail from the California club, while Dean and Nick Bell come from the Alexandria, Virginia, side, which recently finished unbeaten atop the Mid-Atlantic's fall 15s competition. Tau and Bell both helped the US to a 2-2 showing at last April's Japan 7s tournament.
In addition to Japan 7s captain Hinkin, Hightower, Al Dekin, Thad Hill, and Dave Hodges round out the side. All have some international experience, notably Hightower, who helped the Eagles qualify for the 1997 7s Rugby World Cup at last year's Dubai tournament.
Since then, it's been a busy year for the US 7s team, highlighted by a 4-3 record and the Bowl championship at the 2d 7s World Cup in March in Hong Kong. (At the 1st World Cup in 1993, the Eagles finished 1-4 and out of the playoffs.) Seaber's October appointment has also been important. The longtime Midwest coach and administrator brings experience and full-time energy to the tasks of organizing of the country's pool of 7s coaches and managers, selections, and coordinating international appearances.
Russell makes his first foray as coach of the US 7s team, but the Northeast man brings an impressive playing resume to the job. A capped 7s player who skippered the US at the 1995 Taipei 7s, his credentials also include a runnerup finish in the 1997 national championship with Old Blue (New York, New York) and a 1993 national 7s championship, when he was named MVP. Russell was an assistant coach for the women's US 7s team during the run-up to the 1997 Hong Kong 7s.
Having finalized the squad, Russell has since been working against the age-old American problem: trying to get a far-flung team on the same page before it meets for the first time to depart to Dubai. "Because we have ten 7s specialists, we'll be able to rotate players and quickly understand the gameplan," Russell commented of his approach. "But we'll still have to play well and need some luck to beat teams on paper we're not supposed to beat."
Choosing the team itself was unusually difficult, because the Dubai tournament falls on the same weekend as USA Rugby's newly reinstated Inter-Territorial Tournament (ITT). The Tampa, Florida, event has long been one of the US National Team's highest priorities. However, the US has contractual obligations to its 7s sponsor, American President Lines (APL), a shipping country with interests in Dubai, and could not consider canceling its previously scheduled appearance. Several candidates for the Dubai squad were forced to choose between the two.
"It's unfortunate that it made for a difficult decision for some of the players as well as management," US General Manager Jack Clark explained. "We have sponsorship obligations in Dubai with APL and an equally important obligation to the territories in Tampa. But I'm confident that the team we've chosen will represent the United States well in Dubai."
United States to 1997 Dubai 7s
Roster: Nick Bell, David Dean, Al Dekin, Brian Hightower, Thad Hill, Jon Hinkin, Dave Hodges, Willie Mahoni, Soane Tau, Eric Tuipulotu.
Staff:Bill Russell, coach; Keith Seaber, manager.




© USA National Rugby Team
Kurt Oeler, Media Relations
Hudson Rugby Fieldhouse
Berkeley, California 94720 4426
phone 510.643.1971 / fax 510.643.2192