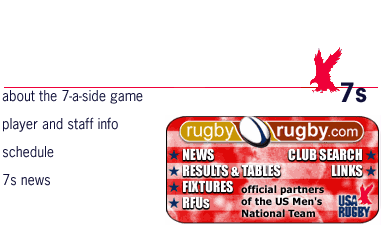 Eagles Reach Bowl Semifinals in Dubai
(Dubai, UAE) 4 December 1999 -- The United States reached the Bowl semifinals at the Emirates Airlines Dubai 7s yesterday before falling to Zimbabwe 29-7.
New head coach Tommy Smith's side posted a 2-3 record in the United Arab Emirates with a 12-7 pool victory over Kenya and a 29-0 win against Hong Kong in the bowl quarterfinals. The US 7s side was also respectable in defeat to world powers Australia and France.
A late change to the tournament's seedings saw the US face the Wallabies in their first outing of the season, and the Eagles fought to a 36-15 defeat, scoring tries through Don Younger, Brian Hightower and Nelo Lui. The French came next and a bad start saw the Eagles down 14-0 at the turnaround. The team rallied in the second period with tries to Younger and John McGeachy to end the match 24-10.
"We made a couple of mistakes against Australia and they capitalized," said coach Smith, "and we dug a hole for ourselves against the French due to one poor restart. Minor mistakes get punished hard at this level of competition. That's life at the international level."
The hard-fought victory over Kenya called for desperate second-half defense against an extremely fit Kenyan team. Younger and McGeachy again scored tries for the Eagles, who took a 12-0 lead at the break. In the second period, the defense led by Kevin Henderson and Doug Brown held the opposition to just the one score.
It all clicked for the Eagles early on the second day of competition as McGeachy, Brown, Younger, Henderson and Toshi Palamo scored tries against the Hong Kong side. Against Zimbabwe however, the US offense was shut down, with only Hightower scoring.
Overall, it is a promising start to the season for the USA side, which next sees action in South America in January. With the new World 7s Series in effect, the US is committed to nine international tournaments on the '99-'00 circuit and the challenge for Tommy Smith will be to maintain performance with a rotation of amateur players against largely professional squads.
United States: Nick Bell, Doug Brown, Craig Hartley, Kevin Henderson, Brian Hightower, Nelo Lui, John McGeachy, Jovesa Naivalu, Toshi Palamo, Steve Robke, Eric Tuipuloto, Don Younger.
Coach: Tommy Smith; Manager: Keith Seaber; Physiotherapist: Jeff Ward.


© USA National Rugby Team
Scott Compton
USA National Rugby Team
2802 10th Street
Berkeley, CA 94710
Ph. 510-647-1100
Fx. 510-647-1108