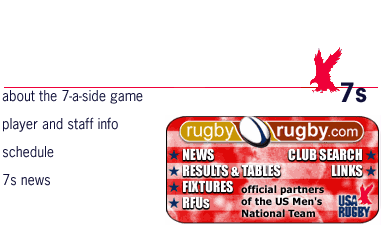 Coyner Replaces Hightower in Hong Kong Squad
(Berkeley, California) 17 March 1998 -- Washington and Middle Atlantic hooker Mike Coyner will take the place of injured Brian Hightower at the upcoming Hong Kong 7s tournament, US National Team 7s Director Keith Seaber announced today.
The rangy Coyner will debut for the United States at the world's most prestigious 7s event, following a strong performance at January's 7s Inter-Territorial Tournament in Phoenix. A two-time Middle Atlantic selection, Coyner's credentials also include three national 7s championship appearances with his club side--two as captain--and one overseas venture with the invitational side Atlantis.
Hightower, who last week tore ligaments in his foot while training with his Aspen club, was to be one of only three players returning from last year's 7s Rugby World Cup Bowl championship team. Having already undergone corrective surgery, the double 7s and 15s international will be out of action for two to three months, also missing the trip to Portugal and Spain and part of the Pacific Rim.
Ironically, both Coyner and Hightower are Virginians, Coyner a graduate of James Madison and Hightower a product of William and Mary.
23-cap 7s veteran Al Dekin skippers the ten-man US squad, set to leave for Hong Kong in a few days. In another twist, the trip reunites Coyner and Dekin, teammates at Washington before Dekin's recent transfer to Belmont Shore.
"Nobody can replace Brian for the tremendous commitment and ability he gives to the sport, and we feel for him knowing his desire to be with this team as well as to tour Spain and Portugal," Seaber said.
"But Mike's selection will give another dimension to the 7s team and will result in a slightly different approach," Seaber emphasized. "We look to him to do very well in Hong Kong."




© USA National Rugby Team
Kurt Oeler, Media Relations
Hudson Rugby Fieldhouse
Berkeley, California 94720 4426
phone 510.643.1971 / fax 510.643.2192