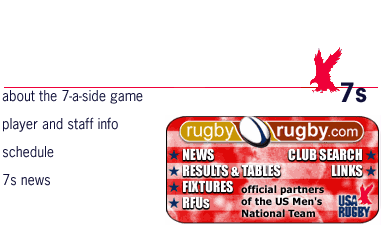 Eagle 7s Suffers through Season Finale
(Berkeley California) 4 June 1999 -- The US 7s team struggled through the Air France 7s this past weekend, going winless in the last tournament of the international season.
Injuries exacerbated the perennial problem of the USA's part-time players facing professional squads, according to coach John Tyler, and the result was an 0-4 outing in Paris. The losses were to Samoa (38-0), South Africa (33-7), French Barbarians (28-7) and Japan (41-14).
"We played hard in all the games, despite what the scores might suggest," said Tyler. "The problem was that we played far too much defense. The other teams would hold the ball for long periods and we would get run-down. That caught up with us towards the end of each match and we would let in points.
"When we did have the ball we did a good job with it, perhaps with the exception of the match against Japan where we made a couple of mistakes. But we just couldn't get possession very often," said the coach.
Tyler singled out Tempe's Ben Trautwein for his performance in the face of team and personal adversity. Playing at hooker for the Eagles, Trautwein picked up shoulder and knee injuries, but remained solid on defense and a hard runner with the ball throughout the tournament.
Trautwein was, in fact, low on the casualty list, overshadowed by injuries to Jeremy Revell (bone chip in the knee joint) and Roger Grant (separated shoulder) who did not survive training. The US called on two local players, both professionals on the French club scene, but melding a team became that much more of a challenge, said Tyler.
The disruption actually began before the team left. Belmont Shore's Craig Hartley was a late addition at the expense of San Mateo's Willie Mahoni who suffered a shoulder injury in Div. 1 Sweet 16 action, ruling him out of the squad at the last minute. In retrospect, said Tyler, it was probably an omen.
"It was good to have a physio on board," he added. "Jeff (Ward) had plenty of work to do."
The US program now awaits details of the International Rugby Board's World Series of 7s which is due to begin next season, offering new competitive opportunities and increasing the profile of the 7-a-side game.
United States: Kevin Barth, Doug Brown, Roger Grant, Craig Hartley, Jason Hill, Nelo Lui Jeremy Revell, Dave Stroble, Vuka Tau (captain), Ben Trautwein. Coach: John Tyler. Manager: Keith Seaber. Physio: Jeff Ward.
In separate news from the sevens program, coach Bill Russell has announced his resignation due to professional committments.
Russell most recently led the US team to Hong Kong in March, where his squad reached the plate semi-finals. He also led a young team to South America earlier in '99. Perhaps the most notable result of his recent coaching career was the Eagles Bowl Championship in Dubai ('97).
"Bill's energy and committment will be sorely missed," noted Keith Seaber, Director of National Team 7s.
Russell, a scientist at Columbia University and, more recently a visiting scholar at UC Berkeley, will move to Miami this summer to pursue private sector opportunities, and hopes to continue with the national program in an advisory capacity.