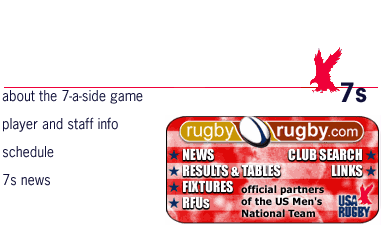 USA to Chile
(Berkeley, California) 1 May, 2000 -- The USA 7s side heads to Santiago, Chile this week to compete in its most important tournament of the year.
The Americas Qualifying Tournament for the Rugby 7s World Cup will be contested May 6-7 with only the top three finishers to advance to the RWC7s next year. The USA is seeded fourth in the qualifier.
While the tournament is not part of the World 7s Series, the USA is going with its strongest available line-up in an effort to secure a spot in Argentina in 2001.
"This tournament has been our focus for months now," noted head coach Tommy Smith. "We badly want to secure a place in the World Cup, and are prepared for a tough fight in tough conditions."
The Eagles will rely on the experience of established XVs players such as Dave Hodges (selected at prop), Kevin Dalzell (scrumhalf), Vaea Anitoni (flyhalf) and Kurt Shuman (center) to lead the campaign. Sevens specialist Don Younger is also in the squad as a prop/wing, with veteran Craig Hartley (hooker/prop), and Nelo Lui, who has shown flashes of great form in the World Series, at hooker/halfback.
The USA has also recalled Malakai Delai (wing) and Jason Raven (hooker/wing) to improve the side's overall speed. Winger Jay Bronson, a French-based American who plays professionally, is the only new addition to the team.
The USA will play Canada, Trinidad & Tobago, Peru and Colombia in pool action. Canada is the tournament's Number 1 seed. The other top seeds, Chile and Uruguay, are in Pool B of the 10 team tournament. (As host of the RWC7s 01, Argentina has an automatic berth to the finals.)
United States: Vaea Anitoni, Jay Bronson, Kevin Dalzell (captain), Mala Delai, Craig Hartley, Dave Hodges, Nelo Lui, Jason Raven, Kurt Shuman, Don Younger.
Coach: Tommy Smith. Manager: Duncan Hall. Physiotherapist: Jeff Ward.