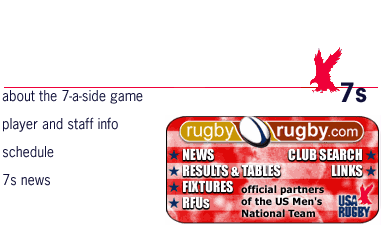 About 7s
Seven-a-side rugby is the sport's answer to three-on-three basketball-- except full court and full contact.
With seven players on each team, 7s matches consist of two seven-minute halves with a one minute intermission. Because the game is played on a regulation-sized field, the pace is much faster than a regular game of rugby (sometimes called 15s).
All the laws and principles of rugby apply although scrums feature only opposing front rows (three players), lineouts usually have just one jumper, and following a try, the team that scored kicks off.
Meanwhile, with all that open space on the field, defensive organization and open-field tackling are crucial, along with speed and handling: lots of breakaways occur but the ability to finish is what it's all about.
Typically played in one- or two-day tournaments, 7s matches thrill large crowds of spectators--many of whom are not regular rugby fans--because every man on the field gets a chance to run the with the ball in the open. The scoring is fast and furious.
Such is the popularity of 7s tournaments that major international events are held all over the world, and a World Sevens Series has recently evolved. The US National Team typically participates in at least four or five major tournaments each year. There is also a 7s Rugby World Cup, held every four years. In 2001, the Eagles fought their way into the Plate round of knock-out competition while in 1997, the 2nd-ever world 7s championship saw the US claim the Bowl championship, a consolation bracket for teams knocked out on the way to the final. The USA's 4-3 record was an improvement on its 1-4 tally in 1993, and good enough for its first-ever hardware in a Rugby World Cup event.


© USA National Rugby Team
Scott Compton
USA National Rugby Team
2802 10th Street
Berkeley, CA 94710
Ph. 510-647-1100
Fx. 510-647-1108